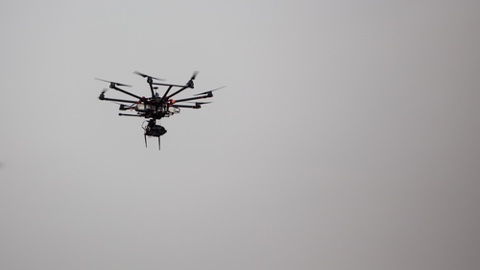 Israeli startup APG, a designer and manufacturer of drones, recently showcased the Peres UAV which can fly horizontally and vertically, transitioning from vertical take-off to horizontal flight and from horizontal flight to vertical landing. The company states that the Peres can be used for a variety of military missions, civilian applications, and commercial uses – such as takeoff and landing on ships, accessing offshore drilling rigs, logistical support of ground forces, delivery of packages and precision farming.
The Peres – named after the Hebrew word for bearded vulture – can take off and land in a five-meter (16-foot) square area. It has a wingspan of more than two meters (seven feet) and a maximum take-off weight of 93 pounds (42 kg). It has endurance of up to eight hours with a payload of 7¼ pounds (3.3 kg), a 93-mile (150 km) mission radius, and a cruising speed of 55 knots at an altitude of 8,000 feet with a service ceiling of 15,000 feet.
To date, Peres 1 and Peres 2 version drones have been developed, ground-tested and flight-tested. The near-term plan is to design and build Peres models 3 and 4, which will weigh more than 440 pounds (200 kg) and have a 12- hour flight endurance.
APG's CEO, Yair Dubester, said, "We have succeeded in a field where large companies working in this sector have had difficulties. The family of UAVs that we are unveiling will 'break the market' because the aircraft in it allow regular flights combined with the option of moving between vertical and horizontal flights while using the same engines."