National Technology Alliance (NTA) proudly partners with leading regional and national associations, ecosystems and commercialization offices with aligned missions to accelerate innovation to benefit our economy and society. The NTA Catalyst Partner Network welcomes leading technology ecosystem and portfolio management organizations, including:
Technology/commercialization-focused associations
Technology transfer and commercialization offices
Incubators, accelerators and mentors/funder networks
Academic and applied research institutions/labs
Investment, legal and commercialization services portfolios
Technology economic development NGOs and regional/state offices
Other transaction consortia (OTs) and partnership intermediary agreements (PIAs)
Government accelerator, incubator and innovation funding programs
NTA Catalyst Partners get access to an inclusive ecosystem and sustainable infrastructure that connects innovators of early-stage dual-use innovators with the largest pipeline of funding requests and opportunities, like:
A unique pathway for accelerating commercialization: NTA provides access to the largest pipeline of private sector innovation in the U.S.​
An unmatched foundation: NTA combines ATI's 25 years of contracting expertise and consortium management and $50 billion in federal funding with TechConnect's huge innovation ecosystem and scouting programs for both government and industry.​
Membership in a trusted community: Powered by ATI, a pioneer in federal R&D collaboration that actively manages 25+ multifaceted consortia to address critical national technology needs, NTA provides an unbiased and credible community to support our national innovation initiatives.​
To become an NTA Catalyst Partner or to learn more about benefits and support programs, please contact: Catalyst Partner Manager
---
Catalyst Partners*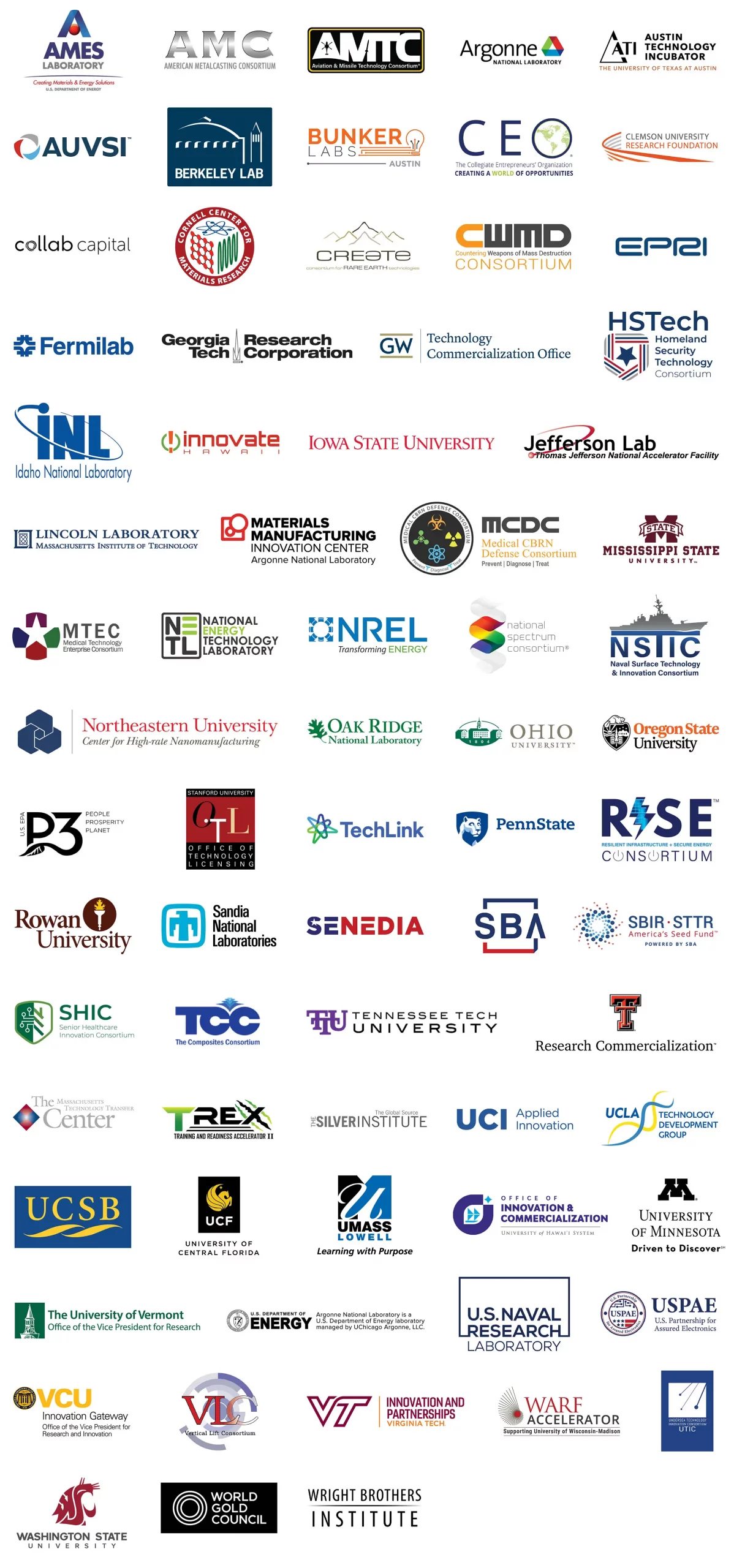 * Catalyst Partners consist of both recent confirmed NTA partners and legacy TechConnect scouting and event partners. To protect the integrity of its members and the nation's science and technology initiatives, NTA maintains strict requirements for Catalyst Partner engagements. All Catalyst Partners must be in good standing with the government. NTA reserves the right to refuse to grant Catalyst Partner status to any organization for any reason.