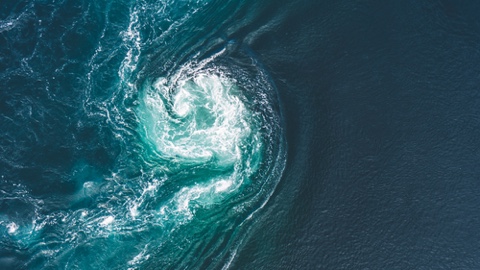 The National Oceanic and Atmospheric Administration (NOAA) is currently testing the use of autonomous sailing drones to to monitor weather patterns, temperatures, ocean currents, and more. Historically, NOAA has maintained a network of sensors across the world, including ocean buoys spread throughout the Atlantic and Pacific oceans. As these buoys are becoming aged and obsolete, the Ocean Climate Stations (OCS) project is examining these drones as an alternative technology.
Saildrones can do sampling like research ships perform, but at a fraction of the price. They have a speed of 2-8 knots (2 -9 mph), a range of more than 16,000 nautical miles, and endurance of up to 12 months.
California startup Saildrone has created this fleet of drones that navigate to their destination using wind power alone. The data collected is transmitted back to shore via satellite and delivered through their API which then can be accessed on any computer or smart-phone / tablet for live data manipulation and visualization. In a test in 2017, two Saildrone vehicles successfully sailed through the rough seas of the Bering Strait after a 1600 km (004 miles) transit on their way into the Arctic.
"This was a real win. Bering Strait is a daunting place for even a small craft — lots of traffic from much bigger ships, a fast current, and a confined area that pushes everyone close together," says Jessica Cross, of NOAA Research's Pacific Marine Environmental Laboratory (PMEL). "They handled the tough conditions without a hitch."

Jeremy Mathis, director of NOAA's Arctic Research Program, watched the crossing from his smart phone in Washington D.C. "This is a real game changer for NOAA's ability to monitor the rapidly changing environment, says Mathis. "Even five years ago, we could not have imagined a vehicle with this capability and endurance. I believe it will become a workhorse of our sustained Arctic observing system."