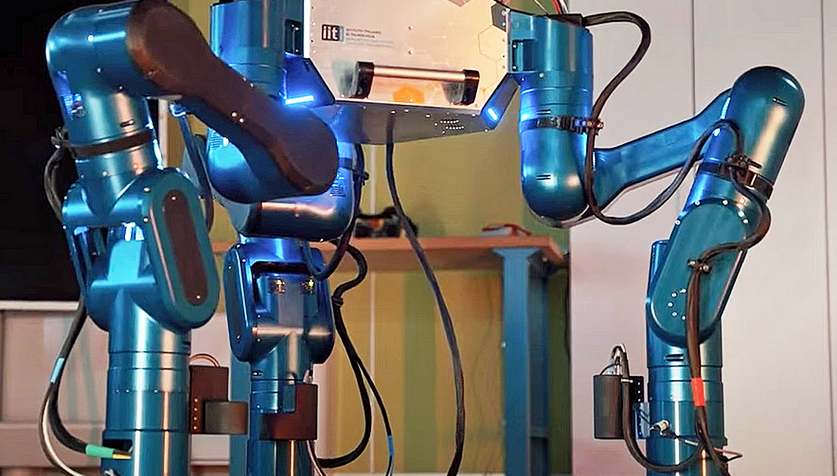 Researchers at the Istituto Italiano di Tecnologia (IIT) – along with Leonardo S.p.A and GMV – recently unveiled a new prototype tripedal robot for use in space. The MARM (Multi-Arm Relocatable Manipulator) platform is part of the MIRROR (Multi-arm Installation Robot for Readying ORUs and Reflectors) project, which is funded by the European Space Agency (ESA).
The MARM robotic system is designed to assist astronauts in assembling and maintaining infrastructures within a microgravity environment. It can walk, move, grasp, and transport payload modules and self-relocate itself within the space infrastructure.
MARM is made up of a central body, three limbs, and a docking device. It can use its three limbs to move around by latching onto points on the station's surface. Its limbs can also be used to assemble and position components and manipulate the Orbital Replacement Units (ORUs). Each of the three legs has six degrees of freedom (DoF), which is comparable to common industrial robot arms. The three limbs are a significant improvement on previous installation robots, as they give it greater locomotion and more flexible and wider manipulation range. Robots designed for use in space often have four or six legs which gives them a highly stable gait, but the extra legs add weight, increasing the cost of launching them into orbit.
As the MARM platform contains a perception system and has the ability to process a continuous exchange of inputs and outputs, it will be able to pick up a payload from a store, relocate itself while carrying it, and assemble it at the desired location.
MARM will be tested in a physical simulator arrangement prior to the development of a version qualified for use in space.