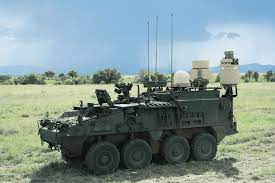 The U.S. Army awarded Lockheed Martin and General Dynamics Mission Systems a contract worth US $15 million to develop concepts for the Terrestrial Layer System-Echelons Above Brigade (TLS-EAB), an electronic warfare platform. "The Terrestrial Layer System Echelons Above Brigade is planned as an extended-range, terrestrial sensing, collection, and electromagnetic attack system(s) providing integrated Signals Intelligence, Electronic Warfare (EW) and Cyber capabilities for situational awareness, situational understanding, indications & warnings, command post protection operations, and support the delivery of lethal and non-lethal effects in a holistic, synchronized manner for large-scale combat operations,"" said Ken Strayer, U.S. Army project manager for electronic warfare and cyber.
The EAB is an electromagnetic attack and collection system that integrates cyber, signal intelligence, and electronic warfare capabilities – thus providing valuable information about the surroundings across thousands of miles.
Phase I will have the two companies developing concept designs, undergoing a system review, and participating in a software architecture demonstration. The second phase will be prototype build, test and integration; the third phase will examine production readiness and operational assessment; the fourth phase will see the Army equip and transition to a follow-on program; and the final phase will be the design and development of future material solutions.
"Coupled with the TLS Brigade Combat Team system, soldiers at all levels will have the ability to support Multi-Domain Operations with EW situational awareness and affects options," Strayer said.
The BCT system is a platform that also falls within the Terrestrial Layer System category and is similarly designed to boost troop awareness.
The Army's Project Manager Electronic Warfare & Cyber office stated that the TLS-EAB will improve the service's information superiority, targeting and long-range fires capabilities on the battlefield, which is a critical piece for joint all-domain operations.