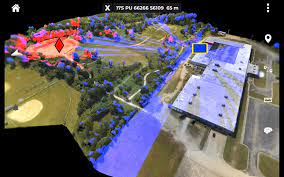 Reveal Technology partnered with Teal Drones to improve Reveal's "Farsight" mapping software which produces high-fidelity 3D maps. The ability to rapidly create accurate 3D maps of areas targeted for military operations is a critical component of the work of military tactical teams. Farsight has increased the speed of data collection by automatically combining imagery from multiple unmanned aerial systems (UAS).
"Farsight already significantly sped up the rate at which aerial imagery could be used to help teams more safely and effectively carry out their missions," said Reveal COO Andrew Dixon. "Simultaneously gathering data from multiple drones, such as using Teal's 4-Ship multi-drone system, compounds this for significant intelligence advantages on the battlefield."
The 4-Ship multi-drone system allows a single operator to simultaneously control up to four of Teal Drones' Golden Eagle drones. This provides instantaneous and ongoing 360-degree surveillance of a target. Tactical teams receive real-time access to detailed 3D maps of a target area which can be overlaid with: line-of-sight analysis; terrain analysis and graphing; an AI-generated "best route" through a target area; a vertical measurement tool; and a helicopter landing zone survey.
Farsight blends state-of-the-art computer vision, AI and computing "at the edge. Computing "at the edge" is performed in the field on handheld devices, meaning no network connection is required, thus eliminating the need for additional processing capabilities. This speeds up the entire process, and allows for the creation of detailed, actionable maps from virtually anywhere on the planet.
"A primary role of Teal Drones – which is one of only a handful of drone companies approved to provide equipment to the U.S. military – is to provide a superior airframe upon which others build apps that allow the military to better meet their objectives, including warfighter safety mitigation," said Red Cat CEO Jeff Thompson. "This integration of Reveal's Farsight software with Teal's 4-Ship product is one of the most important apps that has been developed for the Golden Eagle so far. We are excited about our partnership with Reveal and look forward to even more groundbreaking developments in the future."