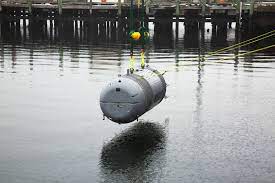 The Naval Undersea Warfare Center (NUWC) Division Newport recently demonstrated an end-to-end intelligence preparation of the operational environment (IPOE) mission with the Snakehead large displacement unmanned undersea vehicle (LDUUV) prototype. The IPOE mission is considered to be a critical step towards testing the vehicle software and hardware systems, as well as the ability to perform extended endurance operations.
Snakehead is the Navy's largest submarine-launched UUV – designed to provide increased endurance, depth capability, and payload capacity beyond small and medium UUVs. It is a modular, reconfigurable, multi-mission LDUUV deployable from submarines and surface ships, which is capable of providing guidance and control, navigation, situational awareness, propulsion, maneuvering, and sensors in support of the IPOE mission. Snakehead also features innovations in the areas of hull materials, lithium-ion battery certification, and advanced sensors.
The trial was performed with the Draper Laboratory-developed Maritime Open Architecture Autonomy. The Snakehead LDUUV conducted a long-distance ingress, performed a sonar survey box, and then egressed back to the test facility. It also successfully collected sonar data utilizing technology from the Pennsylvania State University Applied Research Laboratory.
Previously, Snakehead has conducted 155 in-water sorties and logged more than 78 hours of runtime while using a government-owned and -controlled modular open system architecture. The system architecture includes: vehicle controller software; autonomy software; and command, control, and communications software — TopsideC3 — for mission planning, operations, and analysis. The Snakehead team has also undergone as much as 190 hours of simulations using full-up vehicle hardware-in-the-loop and software-in-the-loop simulation tools, to ensure that the software operates as intended and that mission parameters are set correctly and confirmed by the vehicle.