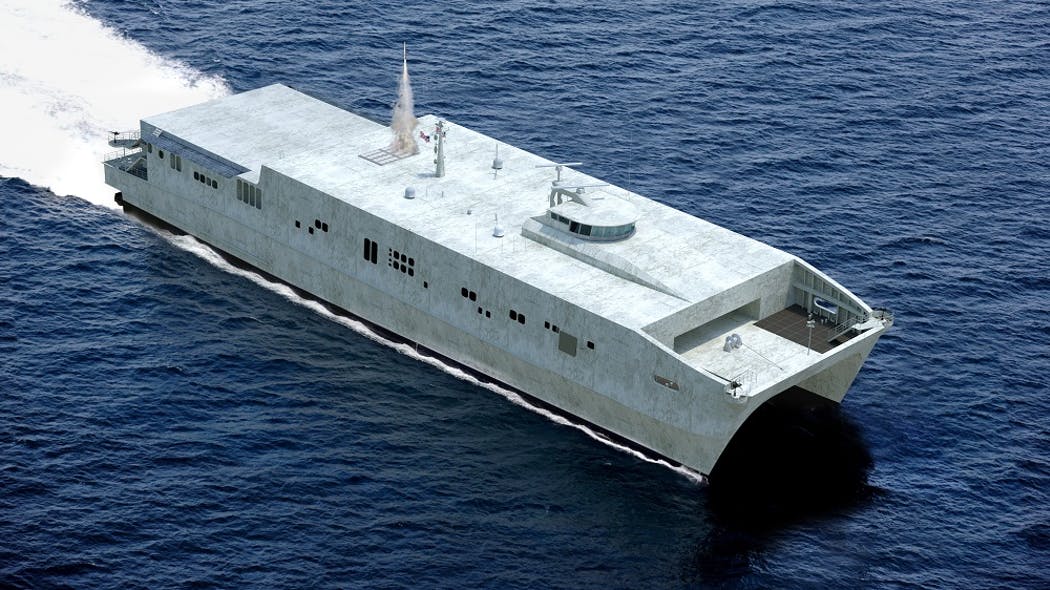 The US Navy has retained six shipbuilding companies to develop concepts for the service's future large unmanned surface vessel (LUSV). The new LUSV will be capable of semi-autonomous operation, with operators controlling the vessel remotely, or through autonomous operations. It will be expected to support the Navy's existing manned fleet on various maritime missions, such as rendezvousing with Navy amphibious assault ships offshore to move personnel and supplies quickly, at lower cost, and less risk. It would also carry electronic warfare, anti-surface warfare, and land-strike warfare payloads.
The six shipbuilding companies retained for the LUSV project include: Lockheed Martin ($11.3 million); Huntington Ingalls ($13.1 million); Marinette Marine ($10.2 million); Austal ($9.1 million); Gibbs & Cox ($9 million); and Bollinger Shipyards ($9.4 million).
The prototype is expected to be 200 to 300 feet long and should also be able to: carry up to 40 tons of personnel and cargo; integrate advanced sensors and high-powered weapons; be able to operate in harsh sea conditions with waves up to 13 feet (4 meters); have the ability to generate as much as power as 75 kilowatts of 450-volt, 60 Hz, three-phase power for on-board electronic payloads; and be able to operate for up to 90 days without a human crew. Other details, dimensions, and performance specifications of the LUSV are currently classified.
The winning vendor will proceed to the first stages of development, employing technologies developed under the Sea Hunter project. All six companies will have until September 2024 to submit their LUSV concepts.