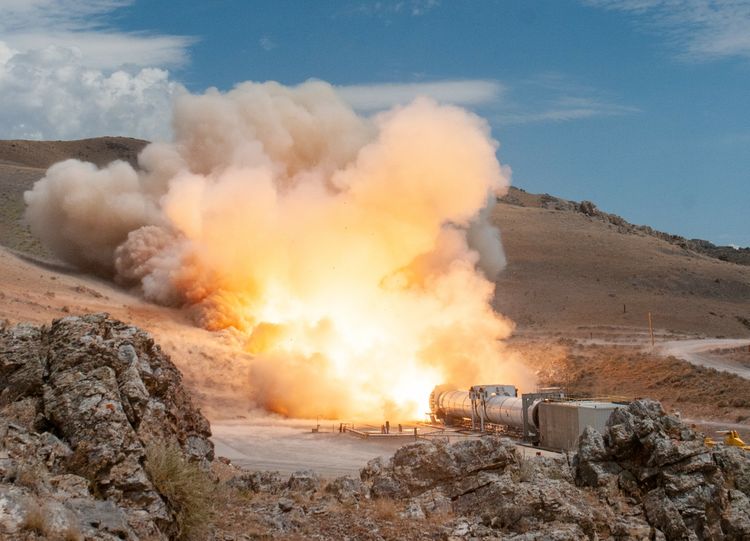 Northrop Grumman and NASA recently successfully completed a full-scale static fire test of the solid-fueled Flight Support Booster-2 that will be used to send NASA's Space Launch System (SLS) rocket into space. Flight Support Booster-2 is intended to greatly enhance the SLS rocket's ability to deliver greater mass and volume to space with greater departure energy than any existing launch vehicle. The SLS will use two five-segment solid rocket boosters to help launch NASA's future Artemis missions to the Moon.
The five-segment Flight Support Booster-2 is the world's largest solid rocket motor, and will provide more than 75% of the SLS rocket's initial thrust during launch. It is composed of leftover booster segments originally built for NASA's Apollo and Space Shuttle Programs, with an additional segment and upgraded technology and materials. These new features generate 25% more thrust than previous boosters.
The test demonstrated a new motor ignition system and an electronic thrust vector control system that steers the motors to gather data from 300 channels that will be used for next-generation Booster Obsolescence and Life Extension (BOLE) boosters. The test also provided information to aid in the evaluation of new materials, processes, and improvements for upgraded solid rocket boosters that will power future versions.
"Continuous product improvements and obsolescence mitigation help NASA achieve its long-term mission to utilize SLS for its Artemis program," said Wendy Williams, vice president, propulsion systems, Northrop Grumman. "This opportunity for early learning on next-generation systems will help us develop an enhanced booster that is ready to support the greater payload demands of the SLS rocket through 2031."