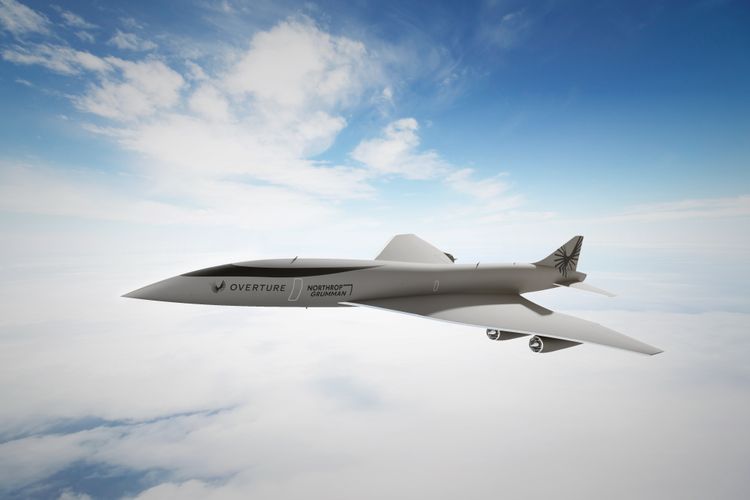 Northrop Grumman Corporation and Boom Supersonic are partnering to develop a new supersonic special-mission aircraft. The new mission variant will be based on Boom Supersonics' Overture, and is intended to support government and military missions that require rapid response. Potential applications include quick-reaction surveillance and reconnaissance, command, and control, along with mobility and logistics missions.
Overture is designed to carry up to 80 passengers at speeds of Mach 1.7 over water and Mach 0.94 over land – twice the speed that subsonic airliners can currently achieve. It will have a cruising altitude of 60,000 feet (~1800 meters) and will run on 100% sustainable aviation fuel (SAF) with net-zero emissions. It will be made primarily from carbon composite materials in order to be lighter, stronger, and more stable than metal crafts. Decreasing the weight will increase the craft's fuel efficiency, making Overture even more sustainable.
Overture's design incorporates a higher aspect ratio gull wing, a larger wingspan, and a contoured fuselage, wide in the front and slimmer towards the back. All of these factors contribute to enhancing supersonic performance, while also improving transonic handling to ensure stability at all speeds.
Overture aircraft will be in production for commercial use in 2024, start flight tests in 2026, and begin carrying passengers in 2029.
"Pairing Northrop Grumman's airborne defense systems integration expertise with Boom's advanced Overture supersonic aircraft demonstrates the power of collaborations like this for the benefit of our customers," said Tom Jones, president of Northrop Grumman Aeronautics Systems. "Together, we can ensure our military customers have variants of Overture for missions where advanced system capabilities and speed are critical."