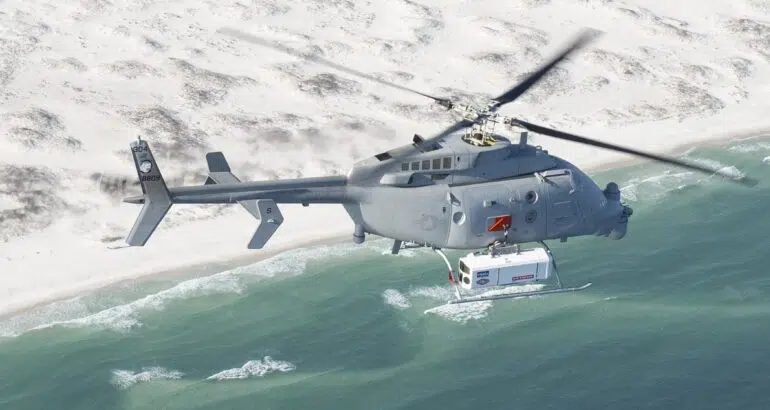 The U.S. Navy has successfully demonstrated the use of a prototype airborne mine countermeasure system. The test involved a BAE Single-system Multi-mission Airborne Mine Detection (SMAMD) System aboard an MQ-8C Fire Scout helicopter drone. The objective of the demonstration was to gather performance data to inform future MCM integration efforts.
The SMAMD System was developed by BAE Systems under a Future Naval Capability (FNC) Program sponsored by the Office of Naval Research (ONR). It is an airborne optical sensor suite that can – in a single pass – detect and localize mines and obstacles on land and at sea. SMAMD provides real-time detection sent via data link enabling warfighters to respond much quicker to threats than the current MCM technologies allow.
 "The team successfully demonstrated that the prototype SMAMD System effectively operates as designed aboard the MQ-8C Fire Scout unmanned helicopter in relevant real world environments," said Capt. Thomas Lansley, Fire Scout program director. "This cutting-edge technology could really enhance Fire Scout's capability going forward."
In order to test the capabilities of the mine countermeasure technology drifting, tethered, and moored mines were deployed throughout the beach zone to deep waters. Data was gathered day and night, across all water depths and in mild to difficult weather conditions. The demonstration also proved the reliable and repeatable high performance of the MQ-8C Fire Scout. The air vehicle handled the dual podded system with ease, being the first MCM capability flown on the MQ-8C as well as the heaviest payload carried to date.
Throughout the project, the team facilitated execution of a complex demonstration including airworthiness and cyber certifications, design, fabrication and hardware integration along with flying qualities testing prior to the final demonstration at Eglin (Air Force Base)," AIRWorks' project lead Kristina Hewitt-Thompson said.