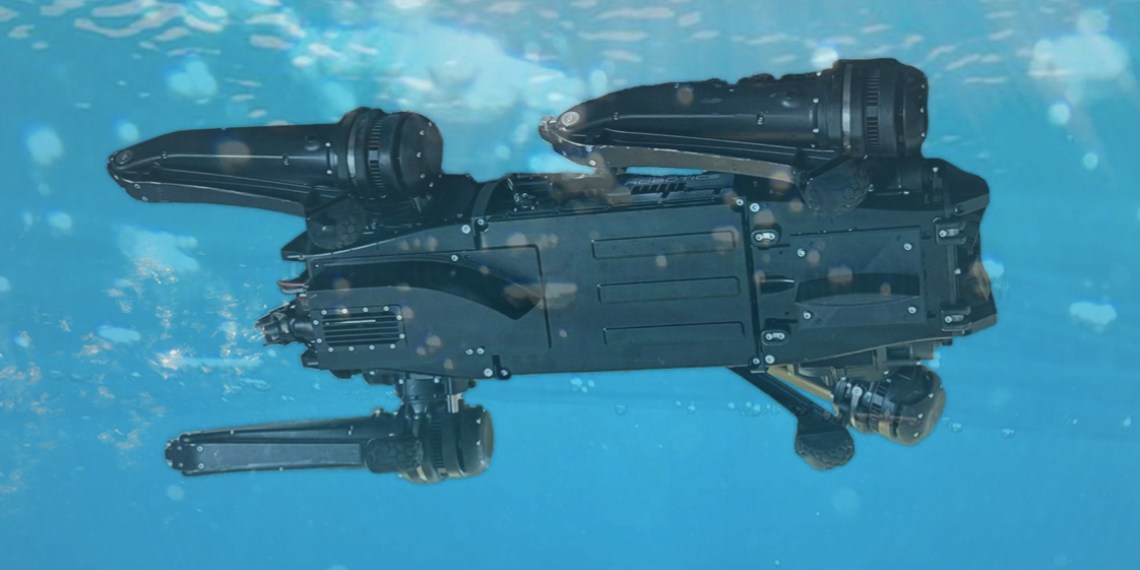 Ghost Robotics' robot dog – Vision 60 – has been deployed on patrol at the Tyndall Air Force base for almost two years. Vision 60 now has the capability of swimming.
Vision 60 is already capable of traversing uneven terrain, running at a top speed of 3 meters per second (9.8 ft/s), carrying a payload weighing up to 10 kg (22 lb), and operating for three hours per charge of its lithium battery pack. The Vision 60s are IP67 waterproof, which makes them able to be submerged to 1 m (3.3 ft) for 30 minutes without leaking, and thus able to wade through water. Now, with the addition of Onyx Industries' Nautical Autonomous Unmanned Tail (NAUT) module, they can also swim.
The NAUT module is an aluminum-bodied jet-drive device that is easily attached to the rear end of the robot. The Vision 60's legs are tucked in to improve hydrodynamics, allowing the robot to travel at a top speed of 3 knots (3.5 mph or 5.6 km/h). The NAUT operates either autonomously or by remote control, steering via a thrust vectoring system. Power is provided either by the robot's battery, or by the NAUT's battery system which has a runtime of over 30 minutes. The NAUT module weighs 2 lb (0.9 kg), with the battery adding another 3 lb (1.4 kg).
It's expected that this new ability would allow the Vision 60 to be used by the military as a scout across a river or lake, and could potentially be used in the case of a natural disaster for search and rescue missions.