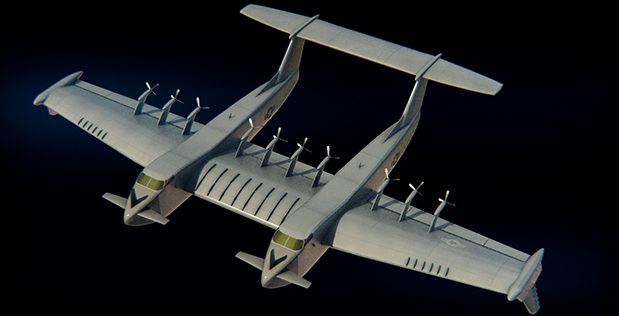 DARPA's Liberty Lifter project is seeking to develop a new vehicle concept that will expand upon existing cargo aircraft by providing revolutionary heavy air lift abilities from the sea. The proposed long-range, low-cost X-plane capable of seaborne strategic and tactical lift is expected to bring about a leap in operational logistics capabilities.
The proposed plane will combine fast and flexible strategic lift of very large, heavy loads with the ability to take off and land in water. Its structure will enable both highly controlled flight close to turbulent water surfaces and sustained flight at mid-altitudes.
"This first phase of the Liberty Lifter program will define the unique seaplane's range, payloads, and other parameters," said Alexander Walan, a program manager in DARPA's Tactical Technology Office. "Innovative advances envisioned by this new DARPA program will showcase an X-plane demonstrator that offers warfighters new capabilities during extended maritime operations."
Current sealift is quite efficient in transporting large amounts of payload, but is vulnerable to threats, requires functional ports, and results in long transit times. To address the shortcomings of existing vehicles and operational concepts, the Liberty Lifter program will focus on three main challenges:
extended maritime operations – with emphasis being placed on operating in turbulent sea states by creating high-lift abilities at low speeds to reduce wave impact load during takeoff/landing, and innovative design solutions to absorb wave forces. Additionally, the aim is for the vehicle to operate at sea for weeks at a time without land-based maintenance activities;
full-scale affordable production – construction of the Liberty Lifter will prioritize low-cost, easy-to-fabricate designs. Materials should be more affordable than those in traditional aircraft manufacturing and available to be purchased in large quantities; and,
complex flight and sea surface controls – advanced sensors and control schemes will be developed to avoid large waves and to handle aero/hydro-dynamic interactions during takeoff/landing.