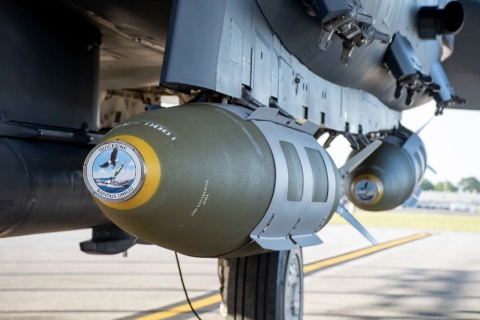 The US Air Force Research Laboratory (AFRL) and Eglin Air Force Base's Integrated Test Team have successfully demonstrated a new low-cost, air-delivered, ship-killing smart bomb. The trial was part of the QUICKSINK Joint Capability Technology Demonstration (JCTD,) initiated by the AFRL to provide more options for neutralizing surface maritime threats by leveraging the "inherent flexibility" of the joint force. Its goal is to rapidly field a capability that can be used against stationary or moving maritime targets at minimal cost. JCTD is funded by the Office of the Under Secretary of Defense for Research and Engineering.
The trial launched a modified 2,000-pound (~ 907 kg) GBU-31 Joint Direct Attack Munition (JDAM) from an F-15E Strike Eagle, destroying a full-scale surface vessel. The test was performed through a collaborative effort with AFRL, the 780th Test Squadron of the 96th Test Wing, and the 85th Test and Evaluation Squadron of the 53rd Wing.
Heavyweight torpedoes have proven their ability to sink large ships, but are expensive and can only be employed by a small portion of naval assets. The AFRL is developing a weapon open systems architecture, or WOSA, seeker to enable precise placement of the weapon. The implementation of WOSA lowers costs by providing modularity via the ability to plug-and-play different manufacturers' seeker components, which can lead to reduced weapon system costs and enhanced performance.
Maj. Andrew Swanson of the 85th Test and Evaluation Squadron stated, "With QUICKSINK, we have demonstrated a low-cost and more agile solution that has the potential to be employed by the majority of Air Force combat aircraft, providing combatant commanders and warfighters with more options."