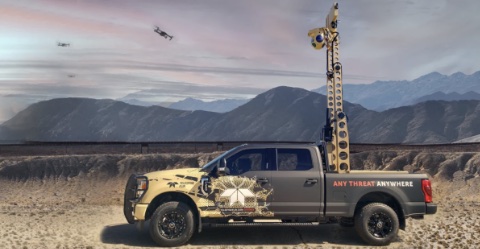 Teledyne FLIR Defense has introduced a new Lightweight Vehicle Surveillance System (LVSS) which can be mounted on a full-sized commercial pickup truck to act as a mobile surveillance system to counter drone swarms.
The LVSS features 3D radar, EO/IR cameras, and RF detection and mitigation sensors mounted to a 16-foot mast. These provide early warning alerts and recognition day or night, detecting and displaying threats simultaneously by showing the position and elevation of all radar tracks. The system can detect drone swarms by allowing operators to monitor up to 500 radar targets simultaneously. A multi-spectral imager captures key unmanned aerial system (UAS) elements that help identify high-risk targets for an exact response.
The height of the mast allows for a complete surveillance picture made up of data, video, and geospatial locations to identify and classify potential targets. As the mast can be retracted and stowed out of sight under protective cover, the vehicle provides an inconspicuous solution for military operations.
The LVSS ADA C-UAS also features:
rapidly relocatable perimeter protection from the system's ability to quickly deploy, stow, and redeploy the sensor suite;
advanced, high performing video analytics that allow operators to precisely identify, track and engage threats;
on-the-move C-UAS counter-measures with full non-kinetic kill chain capability; operators can obtain threat assessments while the system is static or while driving the vehicle;
A new Cameleon™ V5 command and control software that integrates all onboard sensors and supports advanced device features and bi-directional communications; and
increased cyber security tools to resist hackers.
"Protecting vast borders, shorelines, and forward-operating bases is a job that's been made even more difficult with the challenges posed by drones," said Dr. JihFen Lei, executive vice president, and general manager of Teledyne FLIR Defense. "The LVSS C-UAS combines sophisticated counter-drone technologies and counter-measures to make it the most effective mobile surveillance system available to combat these dangers."