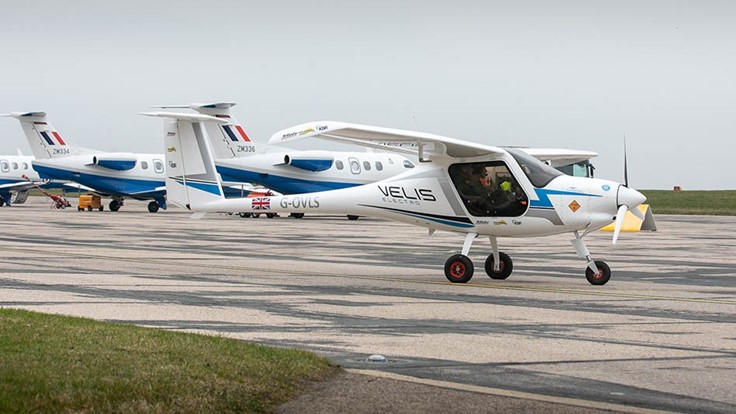 The UK Ministry of Defense is working with Elbit Systems UK and Affinity Flying Training Services on a series of battery-powered flight tests to assess the feasibility of using environmentally friendly alternatives to power military aircraft.
The Sustainable Aviation Pathfinder program will trial zero-emissions aircraft in a bid to realize the net-zero ambitions of the Royal Air Force's ASTRA initiative. The Astra initiative aims to transform the RAF – by improving its space and cyber capabilities, modernizing its bases and transforming warfare – evolve to meet the changes taking place in the world, and determine what the Next Generation Air Force will look like in the next decades. Astra focuses on four key themes; people, infrastructure, equipment and training.
The test flights are using a fully certified two-seater pilot training aircraft from Pipistrel, the Velis Electro. RAF officials have stated that this program isn't about any particular air vehicle but about the concept of electric aircraft and how they would be integrated into the fleet. In addition to the flight tests, they are also exploring logistics support and infrastructure requirements, and 'Total Safety' that would be associated with sustainable aviation.
Martin Fausset, CEO of Elbit Systems UK added: "We are delighted to be leading this exciting initiative with the Ministry of Defence. The concept of zero emissions aircraft being utilized by the RAF has always been considered hypothetical and we are proud to have proposed and delivered initial capability for this pathfinder. Elbit Systems UK has always been, and continues to be, at the forefront of advances in the Defence industry, supporting our Armed Forces as they address the requirements of tomorrow."