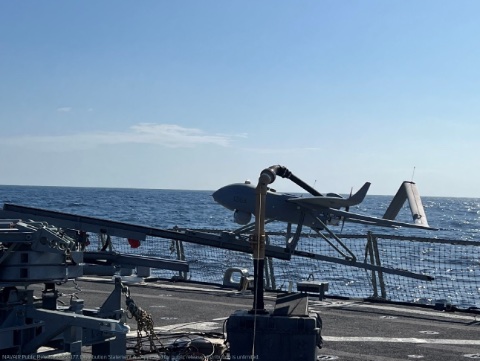 For the first time, Textron recently completed a successful flight and maritime integration of its Aerosonde Small Unmanned Aircraft System (SUAS) on a U.S. Navy Guided Missile Destroyer (DDG).
The Aerosonde UAS is designed for expeditionary land-and sea-based operations, is capable of being integrated into the ship's combat systems, and is equipped for simultaneous day/night full-motion video, voice communications relay, signals intelligence (SIGINT) and customer-selected payloads. Available payload capabilities also include: Ad-hoc networking (MANET); Synthetic aperture radar (SAR); 3D mapping; and Automatic identification systems (AIS).
The Aerosonde UAS is small – with a wingspan of just 12 ft (3.7 meters) – a weight of 80 pounds (36 kg), a range of up to 140 km (75 nm), an endurance of over 14 hours, and can hold a payload of up to 20 pounds (9 kg). It has a minimal impact on the ship's operations, as it is capable of point takeoff and landing. Its negligible visual and auditory signature makes it useful for covert operations.
"This flight for Aerosonde represents the expansion of the platform's real-world maritime mission. Already operating on the expeditionary sea base ship USS Hershel "Woody" Williams (ESB-4), we are excited to see Unmanned Systems contribute to the Navy's critical missions across the globe," said Wayne Prender, Senior Vice President of Air Systems. "The system's long-endurance capabilities make it an ideal platform for maritime ISR operations; search and rescue; and many other missions providing the U.S. Navy with enhanced real-time situational awareness at any time, anywhere."