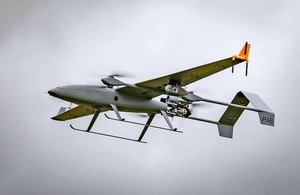 Project Vermeer is a collaborative effort between the Royal Air Force (RAF) and the U.S. Naval Research Department to test the use of synthetic kerosene as a fuel source for all platforms – from remotely piloted air systems to fighter jets. Recently, the Royal Air Force successfully completed a 20-minute fixed-wing drone flight using only this fossil-free fuel.
Chief of US Naval Research Rear Adm Lorin C. Selby said: "It is exciting and game-changing to work with our allies in the UK to develop a more efficient synthetic aviation fuel. The U.S. Navy is committed to finding innovative solutions to operational challenges, and the ability to manufacture this fuel without large infrastructure requirements would be ground-breaking for deployed forces."
Synthetic kerosene is produced by mixing raw materials with high sugar levels – such as food waste – with bacteria to create an oil substance that is then converted into aviation fuel using chemicals and heat. It does not require a large-scale infrastructure, so may be manufactured anywhere – making it an attractive option for military deployments around the world. For the trial, C3 Biotechnologies used a small-scale setup in laboratory conditions to make about four gallons (15 liters) of the synthetic fuel.
The RAF and partners are continuing with the next phase of the project – refining the process and developing deployable manufacturing facilities.
"Fuel scarcity and cost will only ever increase in its impact on RAFs operations and synthetic fuels for our aircraft are one potential solution to this situation as we look to secure the objectives of the next generation RAF of tomorrow," stated Air Vice Marshal Lincoln Taylor.