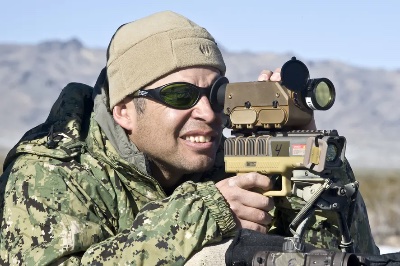 The Marine Corps Systems Command has awarded a $252 million eight-year contract to Northrop Grumman Mission Systems for the Next Generation Targeting Handheld System (NGHTS). NGHTS combines target location, laser spot imaging, and laser target designation into a lightweight, portable system. It will allow Marines to acquire targets quickly, perform guidance against targets, and generate target location data during combat operations.
NGHTS is intended to replace the four legacy systems currently in use by the Marines, which include: the Portable Lightweight Designator Rangefinder; Joint Terminal Attack Controller; Laser Target Designator; and Thermal Laser Spot Imager. The new system is compatible with current and future fire-support systems, and is expected to support the Marine Corps for the next 15 to 20 years. NGHTS will reduce the weight of Marine Corps laser designation and laser spot imaging capability by 60%. It is also capable of operation in GPS-denied environments, with high-definition infrared sensors that provide accuracy and grid capability over extended ranges, a high-definition color display, and day/night celestial compasses..
"NGHTS will significantly enhance the ability of Marines to identify ground targets under a wide range of conditions," said Bob Gough, vice president, navigation, targeting and survivability, Northrop Grumman. "Connected to military networks, NGHTS can provide superior situational awareness and accurate coordinates for the delivery of effects from beyond the line of sight."
The contract includes low-rate initial production, full-rate production, testing, spare parts, engineering services, logistics support, training, and documentation. The contract is expected to be finished by February 2030.