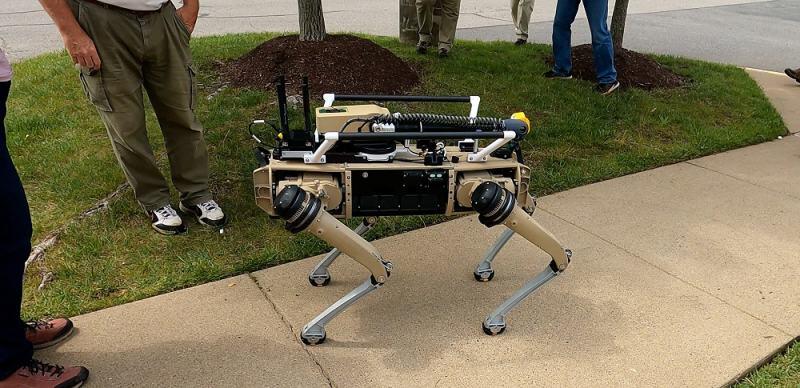 The US Department of Homeland Security (DHS) has been running trials of quadrupedal robots – often called robot dogs – on the southern border. The goal of the program is to leverage technology to force-multiply the Customs and Border Protection (CBP) presence, as well as reduce human exposure to life-threatening hazards.
The Automated Ground Surveillance Vehicles were developed by DHS's Science and Technology Directorate (S&T), working with the robotics firm Ghost Robotics to support the country's CBP mission.
"The southern border can be an inhospitable place for man and beast, and that is exactly why a machine may excel there," said Brenda Long, the Science & Technology Directorate (S&T) program manager. "This S&T-led initiative focuses on Automated Ground Surveillance Vehicles, or what we call 'AGSVs.' Essentially, the AGSV program is all about…robot dogs."
The AGSVs weigh 100-pound (45 kg) and are capable of traversing all types of natural terrain – such as sand, rocks, and hills – as well as human-built environments like stairs. They are currently equipped with several cameras and sensors capable of transmitting video and other data in real-time to human operators. As Ghost Robotics designed their payload capabilities as an open system, it will be easy to integrate different types of cameras (360-degree, thermal, night vision, zoom, etc.) and sensors (chemical, biological, radiological, nuclear, etc.) onto the robots. There is also the potential for the machines to be linked up to artificial intelligence capabilities already in use on the battlefield with war drones and other state-of-art military equipment.
Current trials have included outdoor sentry duty, autonomously patrolling pre-set GPS waypoints along with a simulated encounter with potentially hostile individuals. Full-term deployment of the AGSVs is not yet scheduled, but the DHS states that the trials to date have been successful.