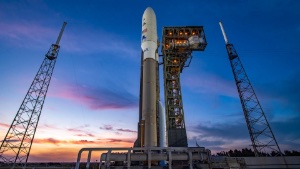 Space Force has launched two additional satellites as part of its Space Domain Awareness initiative (SDA). The satellites are part of the Geosynchronous Space Situational Awareness Program (GSSAP). They are capable of locating and identifying objects within their orbits of 22,000 miles (~35405 km) above Earth – along with maneuvering close to them in order to inspect and assess their capabilities. GSSAP is part of the "orbital warfare" division of Space Force, which is responsible for protecting and defending American space assets and deterring adversary threats in space.
The GSSAP-5 and GSSAP-6 – built by Northrop Grumman – were launched from the Cape Canaveral Space Force Station atop a United Launch Alliance (ULA) Atlas V 511 rocket. Space Systems Command stated that the new GGSAP satellites "will provide improved SDA data to the National Space Defense Center and other national users to enhance our ability to navigate freely and safely within the GEO belt." Last year, Space Force's second in command, General David Thompson stated that U.S. satellites are in constant danger from "reversible attacks" such as electronic warfare jamming, laser dazzling, and cyber attacks.
Though details of the program remain scarce, Chief of Space Operations Gen. Jay Raymond spoke at a recent conference stating that the SDA program has allowed them to move from simply locating space objects – finding "an address for something in space" — to being able to have "insights into what those capabilities are" in the critical GEO orbit.
"When you look at the geosynchronous domain, it's a very large volume of space that you have to cover and this provides additional capacity for us," Raymond stated.