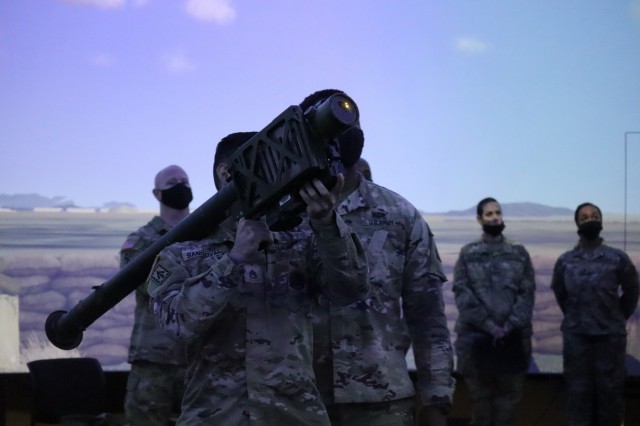 Fort Sill, OK recently held an opening ceremony for its new Integrated Moving Target Simulator – called the Stinger Training Dome. The Stinger Training Dome provides a projected terrain and aircraft images within a "360-degree virtual reality battlefield environment," including ground vehicles and visual aircraft recognition. The system can train up to three gunners individually or simultaneously, to identify, acquire, and track airborne targets, and then launch a Stinger missile.
This virtual training facility will provide more affordable training than live-fire sessions.
"First you don't have the expenditure of live munitions and you don't have the restrictions of firing time. It allows Soldiers to train more frequently and saves the Army money while providing training opportunities," said Norbert Granchi, assistant program manager, PEO STRI, who works on virtual training systems.
"The new dome offers a tremendous capability to train Soldiers and greater definition to see the targets we're looking at and to distinguish between friendly and foe aircraft," said Col. Cory Berg, commander, Program Executive Office of simulation training and instrumentation (PEO STRI). "There's a brand new chandelier that's inside with 14 projectors with the capability they put in there with our partner Blue Halo to provide great dome interaction which allows two Stinger teams to train at the same time."
Col. William Parker, commander, 30th ADA Brigade, stated that the new training dome allows the instructors to adjust to different environments and various scenarios – including varying terrain such as desert, forest or the National Capital Region, as well as moving aircraft targets and countermeasures.
"We are expanding capability and readiness, and I can't wait to see our Soldiers get in there and start getting after it because the graphics that I saw are incredible. You no longer have those eight miles of cables coming down from the missile itself," said Parker. "It's much more realistic, and we couldn't have done it without the help of our partners in the industry getting this capability to where it's at right now. But now we're able to get after that tough realistic training that we just talked about."
Along with Blue Halo, another partner – InterSense – worked with EER Systems (now L-3 Com GIS) and AEgis Technologies to free the trainees from the tethers and cables that were connected to training weapons. The designed interface sends all of the acquisition, lock, and fire data along with tracking to the IS-900 processor via the InterSense wireless link.