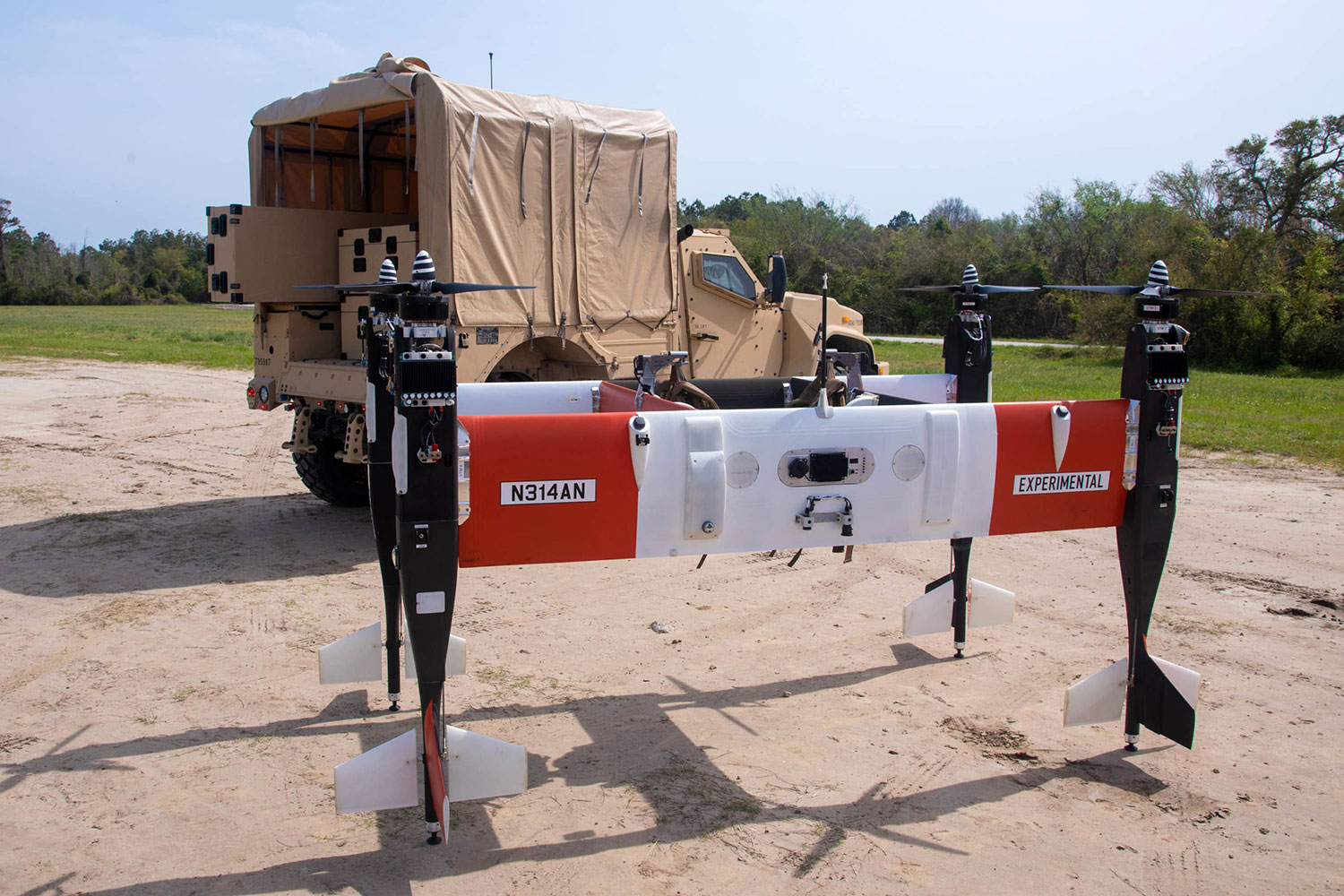 Bell has successfully demonstrated the aerial resupply capability of its Autonomous Pod Transport (APT) – an autonomous electric vertical takeoff and landing (eVTOL) quadcopter cargo drone. This capability is expected to enable quicker resupply missions for troops in challenging locations or on battlefields.
The APT takes off vertically and then tilts in a horizontal position for forward flight, taking advantage of its bi-plane wings – furthering the range of the cargo drone. To land, the drone changes from a horizontal position and transitions to vertical flight, then lands using its tail-sitter styled landing gear. Its footprint is small enough allowing the drone to land in fairly small spaces. It is designed to carry a payload of up to 100 lbs (45 kg), and can fly with a top speed of 62 mph (100 km/h) for up to 35 miles (56 km) on a single charge. Its hover time has been minimized to extend its mission range and time. Future testing will include demonstrating precision aerial supply while flying at an 80 mph (129 km/h) cruise speed.
The APT is unique in that it has the ability to take off with two standard tactical packs, each capable of holding up to 60 lbs (27 kg) with a maximum payload of 100 lbs (45 kg). These bags can be aerial dropped at one location or two separate locations and hold items such as ammo cans, water, medical supplies, or fuel.
"This speed bag resupply feature is a game-changer for the warfighter," said Mike Goodwin, sales and strategy manager. "With the ability to drop supplies quickly and efficiently in a drop zone or a remote location, we can get critical supplies delivered as soon as they're needed."