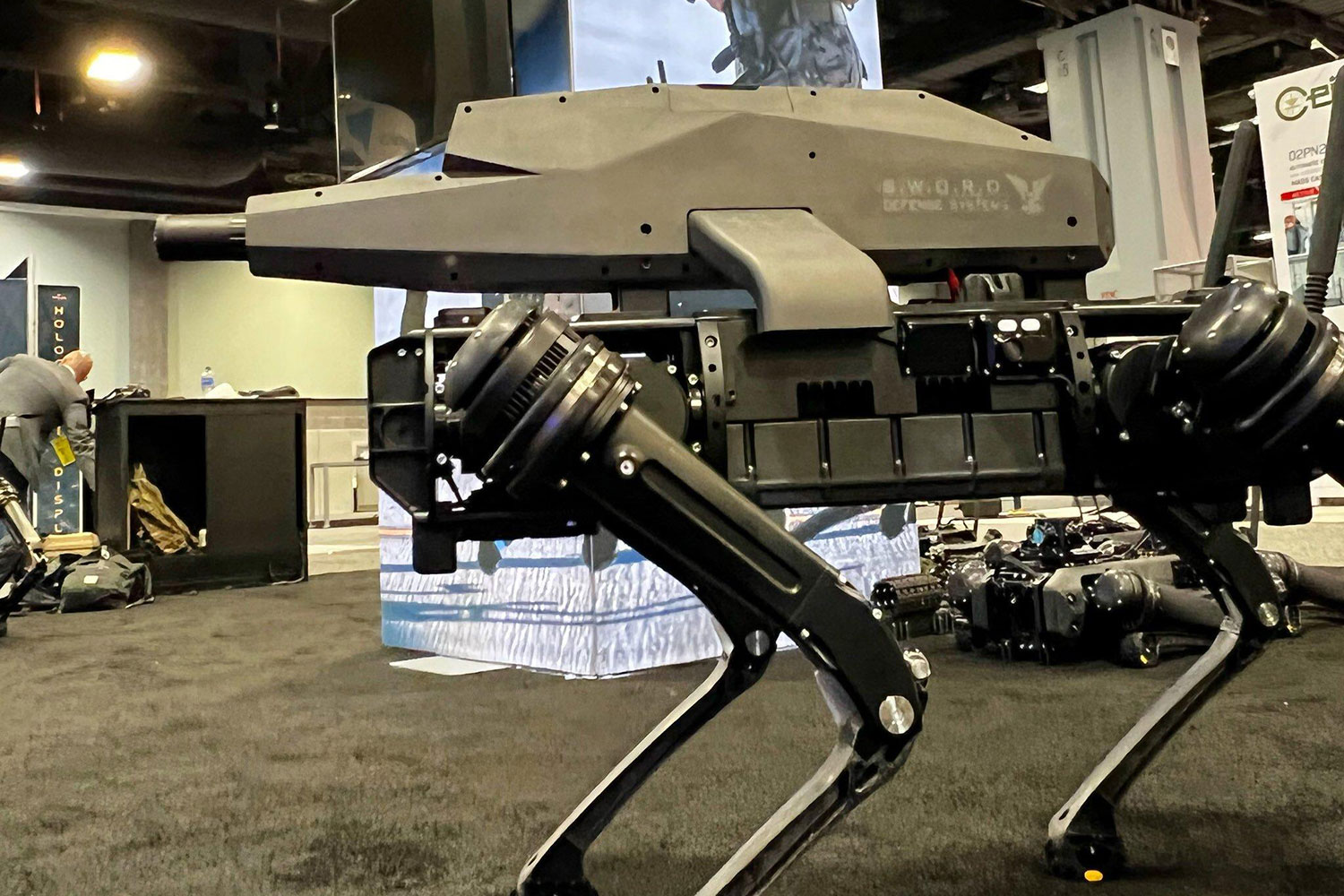 Ghost Robotics and SWORD International recently presented what they call the "latest lethality innovation" at the Association of the U.S. Army's Annual Meeting. Their Special Purpose Unmanned Rifle (SPUR), adds a 6.5 mm Creedmoor rifle from SWORD to one of Ghost Robotics' quadrupedal unmanned ground vehicles (Q-UGVs). While resembling the Boston Dynamics robot dog 'Spot,' the Q-UGV is specifically designed for military use and in adverse conditions.
SPUR weighs 7.7 kgs (17 lbs), and features safe, chamber, clear, and fire capabilities that provide the operator with the ability to load and fire the weapon at a distance. The 6.5 Creedmoor allows for precision fire out to 1200 meters. Its sensors enable the system to operate in a range of conditions, both day and night. Its charge is enough to cover 12 km (7.5 miles) in 3 hours on a single charge, moving at a speed of 2 meters per second. SPUR's level of autonomy is unknown at this time.
Ghost Robotics' Q-UGVs have already been used in limited military applications, as part of an approach to joint warfighting called the Advanced Battle Management System (ABMS). ABMS uses artificial intelligence and data analytics to detect counter threats to the U.S. military. The Q-UGVs were designed to conduct remote inspections, surveillance, and mapping missions, and used to patrol perimeters at air bases for the U.S. Air Force. Late last year, Tyndall Air Force Base became the first Air Force base to implement the semi-autonomous robot dogs into their patrolling regiment.
"These robot dogs will be used as a force multiplier for enhanced situational awareness by patrolling areas that aren't desirable for human beings and vehicles," Maj. Jordan Criss, 325th Security Forces Squadron commander said.