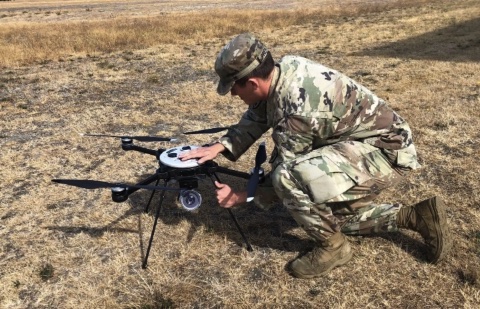 Explosive Ordnance Disposal technicians from the 707th Ordnance Company (EOD) have been field testing the FLIR R80D Skyraider Unmanned Aerial System (UAS). The system will primarily be used for reconnaissance of terrain and to identify possible explosive hazards.
For better terrain mapping during the tests, a LiDAR (Light Detection and Ranging) system – which uses light waves in the form of pulsed lasers – was added to the UAS system. The UAS was also used to deploy lightweight robots called Throwbots to aid EOD Soldiers in identifying hazards in less accessible areas and structures. Throwbots are throwable, rugged, and expandable robots that provide immediate situational awareness, perform persistent observation, and investigate dangerous and hazardous material while keeping its operator out of harm's way.
The Skyraider Unmanned Aerial System is capable of offering situational awareness both during the day and at night, as it is fitted with long-range and high-resolution EO/IR imaging sensors. The aerial vehicle weighs 10lbs (4.5kg), including airframe, legs, four batteries, and without any payload. It can carry up to 4.4lb (2kg) external loads for specialized missions, such as forward resupply and asset extraction. The drone can fly 50 km an hour with a maximum range of 8 km and at a maximum altitude of 15,000 ft. The UAS has a maximum endurance of 50 minutes with a high-endurance propulsion system, can operate in diverse temperatures ranging between -30˚C and 50˚C, and can withstand wind speeds of 65km/h.
Capt. William R. Hartman, the commander of the 707th EOD Company, said the UAS could be of great use in a combat zone. "We could definitely benefit from its capabilities in that environment."