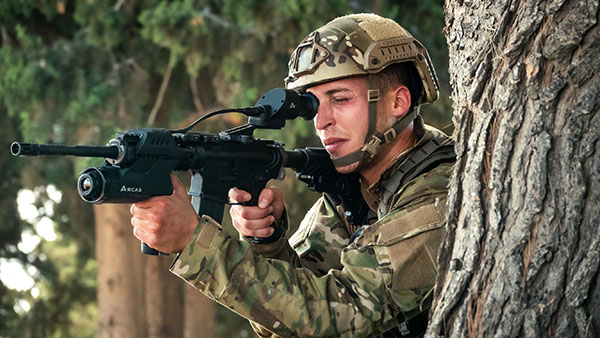 Elbit Systems recently released its Assault Rifle Combat Application System (ARCAS) – a built-in computerized artificial intelligence (AI) powered system that enables assault rifles to transform into digital, networked combat machines. ARCAS provides new capabilities for military personnel, such as: passive range measurement, automatic ballistic correction, detection of fire sources, video motion detection, the ability to shoot around the corner and from the hip, interface with tactical Command and Control (C2), navigation assistance, friend or foe identification, and weapon zeroing without the need for live fire.
ARCAS interfaces with the rifle's Electro-Optical (EO) sight, with a helmet-mounted eyepiece, and with the rifle's assemblies, to provide soldiers with real-time combat information. The AI-powered computer – integrated into the assault rifle's forward grip – gathers data from the sight, tactical information transmitted from the combat unit's command and control system and other ARCAS devices, and mechanical diagnostic data from the rifle itself.
The video system allows the users to shoot around corners from the hip and adjust the weapon's accuracy. The system is operated using a joystick button placed on the rifle's forward grip and a Graphical User Interface (GUI) inspired by gaming apparatus.
ARCAS is capable of interfacing with any existing EO sight, and can run additional and third-party applications depending on operational needs and requirements.
"Today, the regular soldier's weapon has no intelligence, no computer and can do nothing more than fire," Israel Gronwald, Elbit's vice president, Infantry & Special Forces business unit says. "Using ARCAS we can bring a [variety] of applications to regular infantry forces."