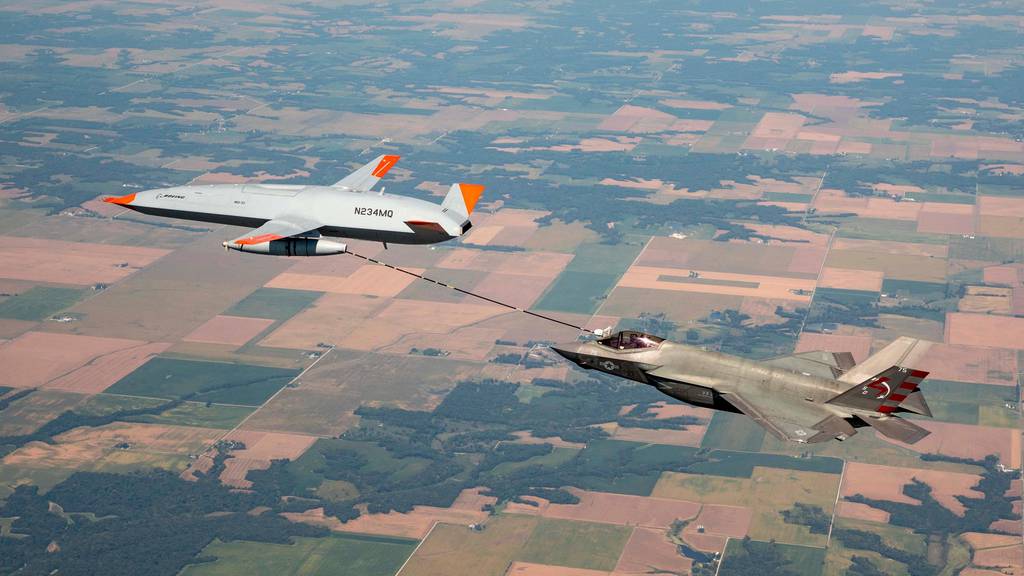 The U.S. Navy and Boeing recently successfully completed the mid-air refueling of a U.S. Navy F-35C Lightning II fighter jet using the MQ-25TM T1 Stingray, an unmanned tanker.
"This flight was yet another physical demonstration of the maturity and stability of the MQ-25 aircraft design," said Dave Bujold, Boeing's MQ-25 program director. "Thanks to this latest mission in our accelerated test program, we are confident the MQ-25 aircraft we are building right now will meet the Navy's primary requirement – delivering fuel safely to the carrier air wing."
The MQ-25 program was started in 2018, and, according to Boeing, will be the world's first operational, carrier-based unmanned aircraft capable of providing aerial refueling and intelligence, surveillance and reconnaissance (ISR) capabilities that enhance capability and versatility for the Carrier Air Wing (CVW) and Carrier Strike Group (CSG). Since its inception, more than 120 flight hours have been completed in order to gather data about its flight performance. Previously this year, T1 successfully refueled an F/A-18 Super Hornet and an E-2D Hawkeye.
"Every test flight with another Type/Model/Series aircraft gets us one step closer to rapidly delivering a fully mission-capable MQ-25 to the fleet," said Capt. Chad Reed, the Navy's Unmanned Carrier Aviation program manager. "Stingray's unmatched refueling capability is going to increase the Navy's power projection and provide operational flexibility to the Carrier Strike Group commanders."
T1 will next be used to conduct a deck handling demonstration aboard a U.S. Navy carrier to help advance the carrier integration progress. Boeing is currently manufacturing two MQ-25's for the Navy.