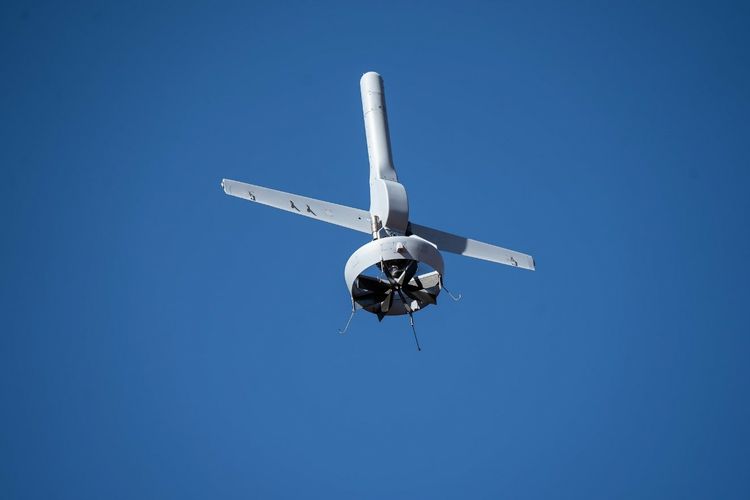 Northrop Grumman Corporation and Martin UAV have successfully flight tested the V-BAT unmanned aircraft system (UAS) – a part of the U.S. Army's Future Tactical Unmanned Aircraft System (FTUAS) program. FTUAS seeks to replace the Textron RQ-7B Shadow drone for Army Brigade Combat Teams, Special Forces, and Ranger battalions.
The FTUAS program calls for a rapidly deployable, GPS-denied navigation-capable, expeditionary vertical take-off and landing (VTOL) system capable of persistent aerial reconnaissance and target designation capabilities. The aircraft must also be capable of being operated by a small team in confined spaces and without the need for a runway.
The V-BAT drone features GPS-denied navigation and target designation capabilities. The enhanced V-BAT UAS is compact, lightweight, simple to operate, and can be set up, launched, and recovered by a two-soldier team in confined environments. It weighs up to 84 lbs (38 kg), can be assembled in less than 30 minutes, and can remain in the air for 11 hours with an extra hour's fuel reserve.
The aircraft's unique duct fan propulsion design provides for top operational safety by eliminating exposed rotors – a feature typically found in propeller-driven VTOLs. The V-BAT can also transition to fixed-wing horizontal flight, capable of reaching over 90 knots (167 km/h), reaching altitudes of 20,000 feet.
The V-BAT is designed with sufficient payload capacity to carry a range of interchangeable payloads, including electro-optical/infra-red (EO/IR), synthetic aperture radar (SAR), and electronic warfare (E.W.) payloads, depending on mission-specific requirements.
"The enhanced V-BAT offers a near-zero footprint, flexible vertical take-off and landing (VTOL) capability that is based on a platform deployed operationally today, to address the U.S. Army's Future Tactical Unmanned Aircraft System (FTUAS) mission," said Kenn Todorov, sector vice president and general manager, global sustainment and modernization, Northrop Grumman. "The team brings more than 30 years experience in the production, delivery, and sustainment of unmanned aircraft systems to support this critical mission today and into the future."