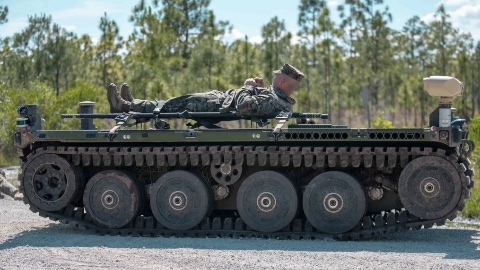 The US Marine Corps has recently been testing the Expeditionary Modular Autonomous Vehicle (EMAV). The EMAV is an autonomous truck capable of transporting casualties, sensors, and weapons.
The EMAV is powered by a diesel-electric hybrid engine, which allows it to run silently, and also provide electrical power for the Marines using it in the field. Its body weighs 7,000 pounds (~ 3200 kilos), with capacity for up to 7,000 more pounds of attachments, sensors, weapons, or cargo. 
"They were designed from the ground up to represent what future tactical unmanned ground vehicles could look like," said Matthew Fogleson, robotics & autonomy branch head, USMC Warfighting Lab. "To give us a common platform to develop tactics, techniques and procedures and standard operating procedures."
The EMAV was designed to fit inside a V-22 Osprey as the vertical-takeoff and landing Osprey can transport 24 people in seats (or 12 on stretchers) in and out of small clearings, allowing it a great deal of access potential for evacuations and/or launching attacks.
When used proactively, The EMAV is remotely controlled from an app on a toughbook tablet. The app can direct it into position, and control the sensors and weapons it carries. Some of the weapons tested include a mine-clearing land charge, and the Common Remotely Operated Weapon Station – a versatile turret that's a combination of sensors and machine guns or grenade launchers.
"Robots are going to operate differently than humans and we have to understand what that means for the Marine Corps in the future," said Fogleson. "It's really no different than the Humvees or the other trucks we have had in the past. The vehicle itself is important, but it's less important than what we're putting on it. Those warfighting functionary things that we're putting on it are what really matter, are really going to change the battlefield."