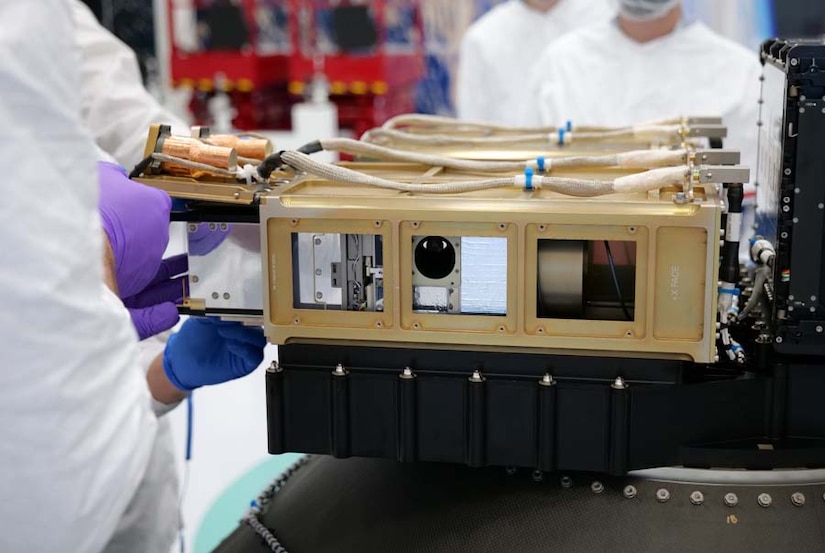 The Missile Defense Agency (MDA) is conducting a 90-day analysis of the use of small, low-cost satellites to demonstrate networked radio communications between nanosatellites while in orbit. The CubeSat Networked Communications Experiment Block 1 is part of MDA's Nanosat Testbed Initiative. It will study two CubeSats launched earlier this year to see if they can navigate properly, receive and send signals to radios and networks, and operate as intended.
"These satellites will test key technologies that mitigate risk for systems, such as the Hypersonic and Ballistic Tracking Space Sensor," Walt Chai, MDA director for space sensors, said. "The CNCE Block 1 mission will demonstrate the viability of advanced communications technologies using reduced size, weight and power in support of missile defense communications architectures."
Also in development at MDA is the Hypersonic and Ballistic Tracking Space Sensor payload. When it is deployed on satellites in low earth orbit, it will detect and track hypersonic and ballistic missile threats and provide critical data.
"The missile defense architecture will require communications between interceptors, sensors and command and control systems to quickly identify, track and destroy incoming enemy missiles before they reach their targets. The CubeSats will allow the agency to demonstrate the capabilities quickly and affordably," Chai said.
CubeSat missions are considered optimal as they allow for flexibility such as: rapid follow-on flights featuring planned, incremental technology improvements with overall greater cost efficiency than using larger, more traditional satellites.
"The ability to use CubeSats for low-cost access to space is essential in maturing technologies for future applications in missile defense," Shari Feth, head of the Innovation, Science and Technology directorate at MDA, said. "For the NTI efforts, we only need something small to take technology experiments to space in order to test in the relevant environment and gather accurate data. CubeSats are the perfect platform for this."