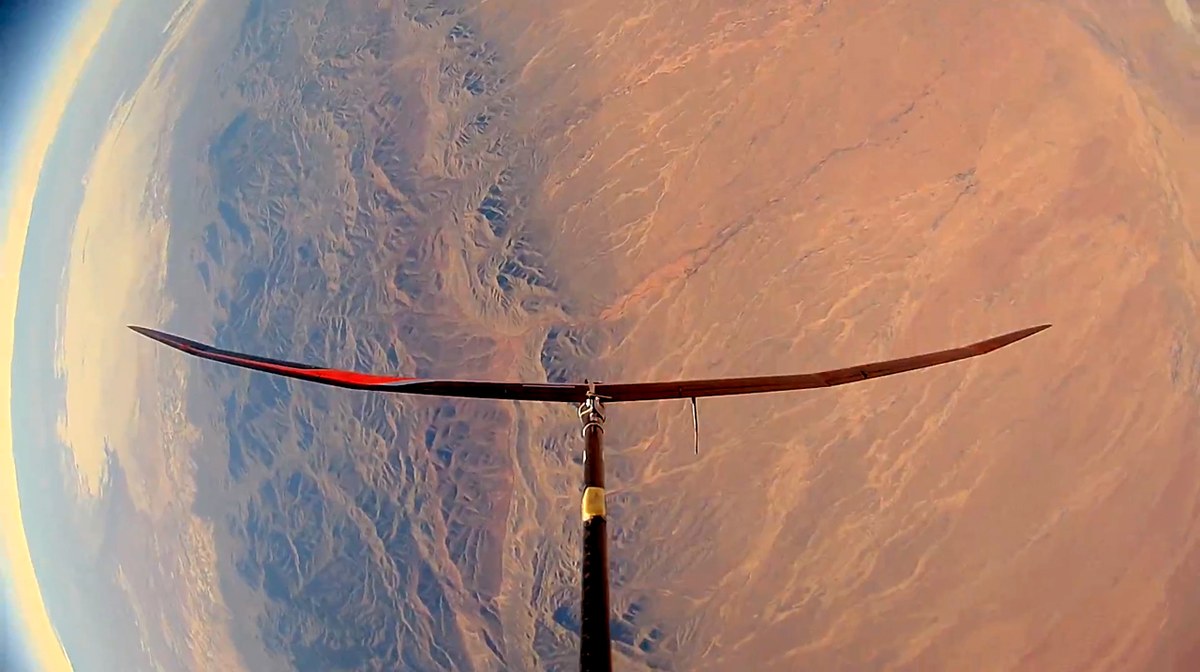 The Physical Science Laboratory at New Mexico State University partnered with Stratodynamics and UAVOS to perform a series of stratospheric flights with HiDRON, an autonomous aircraft. The objective of the tests was to advance new systems for forward-sensing turbulence detection onboard aircraft at near-space and commercial flight altitudes.
The team testing HiDRON was composed of Aliaksei Stratsilatau, CEO of UAVOS, the HiDRON autopilot developer and supplier; Sean Bailey, principal investigator; Ryan Nolin, flight technician from the University of Kentucky; Qamar Shams, sensor inventor from NASA Langley; and balloon launch specialists Andrew Denney and Victor Davison from PSL.
They combined the novel, high-altitude aerial platform with multi-hole wind probe and infrasonic microphone sensors. Working from Spaceport America, HiDRON was released from a sounding balloon at altitudes above 82,000 feet, and then at 98,000 feet and was able to achieve controlled flight.
"The PSL team was enthusiastic to be part of this pioneering launch. Our goal is to provide launch services and expertise that support advancements in research and technology. The safety of the crew and research instrumentation remains at the forefront of our launch priorities; as does the success of our partners," said Denney. "Building the right team is critical."
The flight campaign was supported by the NASA Flight Opportunities Program to advance turbulence-detection sensors – which was developed by the University of Kentucky and NASA's Langley Research Center.
Henry Cathey, director of NMSU's Physical Science Laboratory Aerospace Division, said "PSL's 25-plus years of management and operation of NASA Balloon Program captures a wealth of technical and personal expertise unavailable anywhere else. The success of this important mission with Stratodynamics is a testament to the region's capacity to support this type of work. Being able to collaborate with Spaceport America and utilize their airspace is a significant regional advantage."