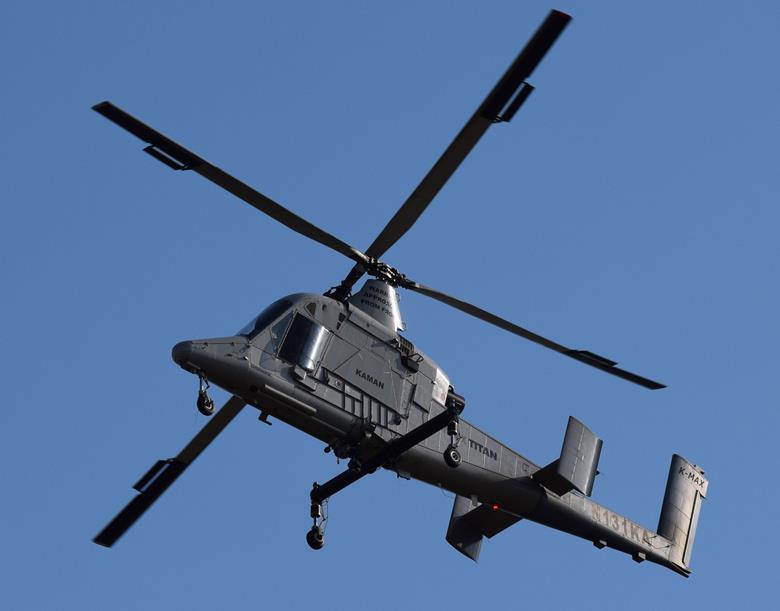 Kaman Air Vehicles, a division of Kaman Aerospace Corporation, has successfully tested its K-MAX TITAN – a heavy-lift unmanned helicopter designed for the commercial market. During its debut flight, the helicopter was controlled from the ground with a safety pilot on-board.
K-MAX TITAN is a commercial version of Kaman's unmanned military cargo K-Max helicopter, which has been in use by the military for about 10 years. The US Marine Corps currently has plans to begin testing a sensor-based autonomy suite from Near Earth Autonomy for its K-Max helicopters in order to add the ability of fully autonomous operation. The Near Earth Autonomy hardware package creates a 3-D image of the surrounding environment.
"With a focus on enabling safety and operational efficiency, the proprietary K-MAX TITAN system will redefine the helicopter external lift market by increasing future mission capabilities in any location and any type of weather," the company said in a press release.
The K-MAX uses a low-maintenance counter-rotating rotor system designed for maximum lift efficiency, allowing it to carry up to 2,722 kg (6,000 lb) of cargo with a cable and hook system. The new TITAN system enables K-Max to run even in adverse conditions and in risky environments. The unmanned helicopter could be used for firefighting, humanitarian assistance, or distributed logistics. Kaman expects to receive US Federal Aviation Administration certification of the K-Max Titan in the next 18-24 months.
"We are excited to reach this major milestone on K-MAX TITAN," said Roger Wassmuth, Senior Director of Business Development for Kaman's Air Vehicles division. "Watching this capability take to the skies and knowing that we are going to solve some of the toughest challenges for our commercial and military customers."