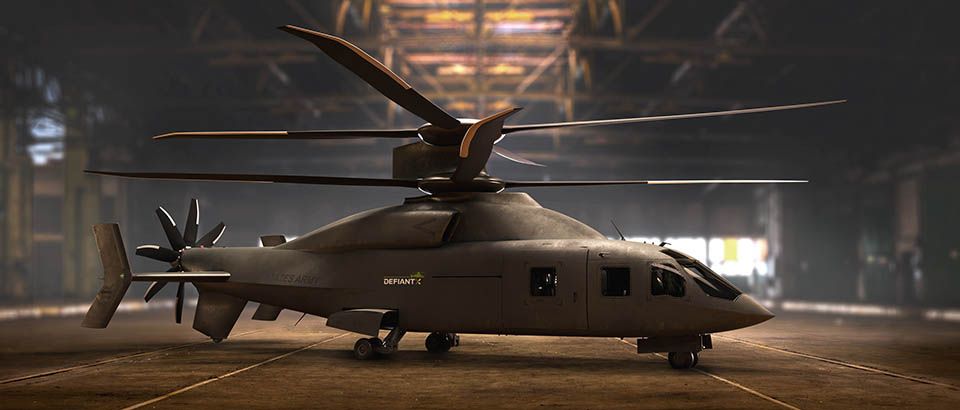 Sikorsky and Boeing Co. have unveiled Defiant X – a compound coaxial helicopter that they propose as the U.S. Army's Future Long Range Assault Aircraft. As part of its Future Vertical Lift initiative (FVL), the Army is planning to select a Future Long Range Assault Aircraft (FLRAA) and a Future Attack Reconnaissance Aircraft (FARA) to replace UH-60 Black Hawks and AH-64 Apache attack helicopters. The goal of the FLRAA competition is to produce a medium-class multi-role assault helicopter with twice the speed and range of current designs.
Defiant X is similar to its predecessor the SB>1 Defiant, but with significant upgrades. The new design includes a modified engine nacelle to reduce the aircraft's heat signature and a tricycle-style landing gear to improve stability when landing and taxiing in combat and austere environments. The Defiant X uses coaxial main rotors and a rear-mounted pusher prop to eliminate the risk of retreating blade stall and uneven lift forces at high speeds that are seen in single rotor designs. At low speeds, the coaxial rotors allow the craft to retain good handling characteristics. Defiant X will also come with "fly-by-wire flight controls integrated with autonomy capability leading to safety and workload reduction for the crew and operations in complex and degraded visual environments."
Sikorsky and Boeing report that testing the new helicopter has involved 1,500 hours running algorithms in a systems integration lab, 135 hours logged in the Propulsion Systems Test Bed, and 31 flights, adding up to 26 hours of flight time. The helicopter is currently being tested in a digital combat environment. Contracts arising from the FLRAA competition are expected to be awarded in 2022. If selected by the Army, the Defiant X will enter service somewhere around 2035. Sikorsky-Boeing is competing against Bell Textron's V-280 Valor tiltrotor aircraft in the FLRAA competition.