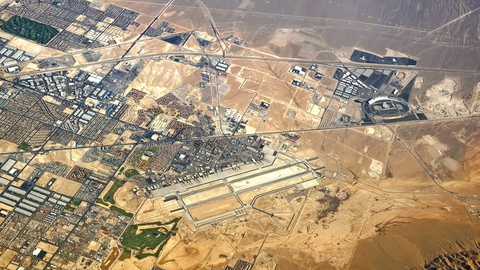 The Defense Department has requested $449 million US for 5G work to be performed in 2021 and has already announced two waves, or "tranches," of pilot projects. The tranches will focus on how the military will adopt 5G networks on US territory, and also how it will modify civilian 5G tech use in overseas battle situations.
Tranche 1 covers six projects:
Hill Air Force Base – Nokia will build a test bed for five other companies to try out alternative approaches to dynamically sharing spectrum between military radars and 5G communications;
Joint Base Lewis-McChord- four firms will build 5G networks for virtual reality and augmented reality training;
Marine Corps Logistics Base Albany –  experimentation with applying commercial "smart warehouse" systems to heavy Marine Corps vehicles;
Naval Base San Diego – a smart warehouse initiative; and,
Nellis Air Force Base – one experiment to apply 5G technology to the internal networks at a command center,  and one adding various network enhancements to the 5G test bed.
Tranche 2 has the goals of testing spectrum sharing with the private sector, and incorporating "zero trust" security protocols. The bases include:
Naval Station Norfolk – 5G networks for both ship-to-pier coordination and internal communication within the ship;
Joint Base Pearl Harbor-Hickam – "aircraft mission readiness;"
Joint Base San Antonio – two projects, one "to evaluate augmented reality support of maintenance and training," the other to "evaluate DOD's 5G core security experimentation network;"
Tinker Air Force Base – "bidirectional spectrum sharing, both in DOD and the commercial sector;" and,
Fort Hood; National Training Center/Fort Irwin; and Marine Corps Base Camp Pendleton – the three sites will explore "wireless connectivity for forward operating bases and tactical operations centers."
The deadline to submit the white papers is officially Nov. 15, but it currently appears an extension will be added. Final solicitations are expected to be sent out in January or February, with contract awards expected in the spring of 2021.