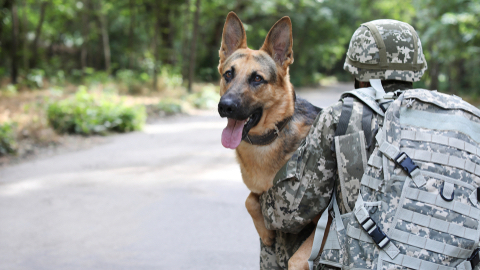 Command Sight Inc. – a start-up investigating technological solutions to improve communication between humans and animals – has created augmented reality goggles to enable special operations forces to communicate with military working dogs on the battlefield.
The augmented reality (AR) goggles were made by using a pair of Rex Specs goggles – already used for canine eye protection by the military – and adding an optoelectronic component to create a display where visual cues can be placed in a digital overlay of the real world to direct and guide the animals. Each set of goggles is customized, with the dog being 3D scanned so the system can be specifically constructed for the animal.
The goggles are then connected to a command interface providing the handler a live feed of the canine's point-of-view and also communicate with the animal in real time.
"AR will be used to provide dogs with commands and cues; it's not for the dog to interact with it as a human does. The military working dog community is very excited about the potential of this technology," said Dr Stephen Lee, a senior scientist with the Army Research Laboratory  (ARL).
Currently, handlers use physical and voice commands to give military working dogs basic directions and lasers to provide more specific guidance. The effectiveness of physical and voice commands is limited by distance and the use of a light source could alert the enemy. But, with augmented reality goggles, a handler who is out of sight of the dog could still provide directions and not betray the team's presence or the dog's intended target.
The preliminary prototype has proven effective and the project is now in its second phase. In the next two years, they will focus on miniaturizing the system, making it more rugged, completely wireless, and production ready.