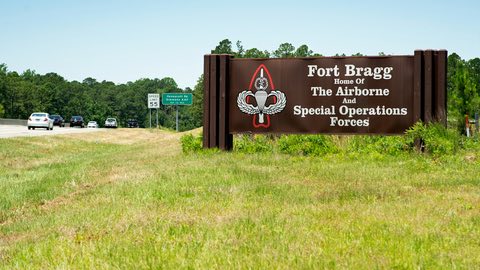 The US Army has awarded Ameresco' Federal Solutions Group and Duke Energy a $36 million design-build utility energy service contract (UESC) to implement power generation and facility efficiency improvements at Fort Bragg. A major part of the project will be the installation of a floating solar microgrid. Floating solar panels have a number of advantages: there is no cost for site preparation, as there is no ground to level; water can provide a cooling effect that boosts solar cell efficiency and enables solar panels to be arranged in greater density – maximizing the use of space; and, shade issues can also be minimized or eliminated entirely on bodies of water.
Ameresco will build the 1.1 megawatt (MW) floating solar photovoltaic system on a 66-acre lake and pair it with a 2 MW battery system to provide seamless transition to on-site generation during utility provider outages. Duke will secure third-party financing to fund construction, and the Army will pay the financing annually with the utility savings that the project generates over the term of the contract.  It is expected that the contracted work will result in utility cost savings of over $2 million, a reduction in site energy use of 7%, and a site water use reduction of 20% in the first year alone.
Ameresco will also be working on improvements to the boiler system, HVAC and lighting systems, and water conservation systems. Construction is scheduled to begin in Novemberof 2020.
"With one-tenth of the Army housed at Fort Bragg, including Special Operations, Airborne and Global Response Force forces, it is imperative to provide energy security and improvements to the installation's utility infrastructure," said Nicole Bulgarino, Ameresco executive vice president and general manager of federal solutions. "We're eager to get to work installing these energy saving and resiliency measures across Fort Bragg and to support the readiness of the U.S. Army by maintaining a continuous power supply at this critical installation."