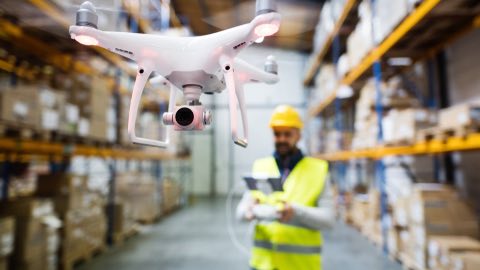 The Defense Department's technology innovation unit (DIU) recently approved five U.S. companies for drone production as alternatives to Chinese-made systems. Altavian, Parrot SA, Skydio, Teal, and Vantage Robotics are now all approved to provide Airborne Short Range Reconnaissance (SRR) drones for military and civilian agency purposes. They will be available through the General Services Administration's buying schedules in September of this year. Under the 2020 NDAA's rules procuring or operating Chinese-made unmanned aircraft systems is prohibited.
"China had decimated our industrial base for small unmanned aerial systems, quadcopters and so forth through pricing," Ellen Lord, DoD undersecretary for acquisition and sustainment, said. "What we wanted to do was come up with government standards that clearly indicated what was acceptable in terms of design and performance to meet department needs."
The SRR drones are an "inexpensive, rucksack-portable, vertical take-off and landing small unmanned aircraft" that small personnel units can deploy quickly. They also offer broader capabilities –  including alternative ground controller and radio configurations – for a wide variety of federal government users. DOD's program development program for these drones is called 'Blue secure small Unmanned Aircraft Systems (sUAS)'. The Blue UAS architecture is developing an open-source, industry standard for small drone command and control capabilities that will allow manufacturers to easily install new software for new capabilities in a more agile fashion – thus increasing development time.
"Blue sUAS represents a tremendous first step toward building a robust and trusted UAS domestic industrial base that ensures sustained delivery of highly-capable, secure UAS to the warfighters that depend on it," said Michael Kratsios, acting undersecretary of defense for research and engineering. "It showcases how we can both work with small, nontraditional companies and our allies and partners to quickly pilot cutting-edge technologies that support our mutual defense."