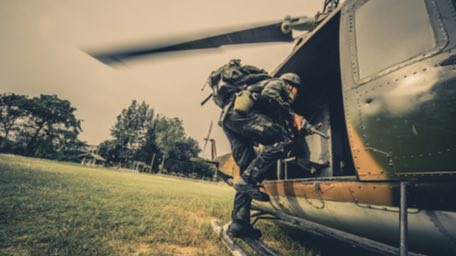 The U.S. Army's Combat Capabilities Development Command (CCDC) Command, Control, Communications, Computers, Cyber, Intelligence, Surveillance and Reconnaissance (C5ISR) Center has issued a Request for Information (RFI) seeking industry input on new technology allowing aircraft to survive and defeat systems in sophisticated adversarial environments made up of sensitive radars and integrated air defense systems.
"The future multi-domain operational environment will present a highly lethal and complex set of traditional and non-traditional targets. These targets will include networked and mobile air defense systems with extended ranges, and long and mid-range fires systems that will deny freedom of maneuver," the RFI states.
The Army is seeking to modernize its reconnaissance, surveillance, target acquisition, and lethality with an advanced team of manned and unmanned aircraft as part of its Future Vertical Lift modernization effort. The interconnected ecosystem will enable the penetration, disintegration, and exploitation of an adversary's anti-access/area denial environment through a series of air-launched effects.
The notice lists five technology areas of interest:
hardware for the mission payloads;
hardware, software or techniques for distributed collaborative teaming capabilities;
software or algorithms that can fuse, process, decide, and act on sensor data allowing air-launched effects to autonomously react and adapt to countermeasures;
multi-mode/multi-function technologies consisting of payloads for synthetic aperture/moving target indicator radar or combined electronic warfare, radar and communication functions that share common apertures; and,
modular open-systems architecture.
Follow-on virtual one-on-one meetings will be scheduled with the respective C5ISR technology groups and respondents within a week post Industry Day, with the intent of giving respondents an opportunity to field detailed questions and obtain more in-depth understanding of the information request relevant to their technology areas.