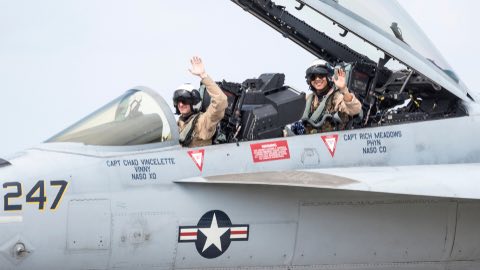 The U.S. Air Force recently contracted with 18 more businesses to work on its Advanced Battle Management System (ABMS) effort to enable all-domain operations. ABMS is the Air Force and Space Force effort to develop technologies to operationalize DoD's high-priority Joint All Domain Command and Control System (JADC2) concept. The Air Force is now using a unique, high-speed set of contracting authorities to speed up the process.
"Just like the Internet of Things, our Air and Space Force platforms will only be as effective as the data they can access, machine-to-machine," Air Force acquisition head, Will Roper, said.  "ABMS will help create internet-like data sharing across our Joint Force to fight at internet speeds. Rapid development and testing cycles are critical to fail, learn, and leap ahead of advancing threats."
The new awards are Indefinite-Delivery, Indefinite Quantity" (ID/IQ) contracts, which means the winning firms will have the opportunity in future to present their solutions for Air Force requests for technologies. If initially approved, the vendor would be invited to demonstrate their technology at one of the Combatant Commander-led ABMS Onramp tests.
The next ABMS Onramp scheduled this fall will feature a simulated attack on U.S. space assets and involve three combatant commands: Space Command (SPACECOM), Northern Command (NORTHCOM), and Strategic Command (STRATCOM). Another test will support Indo-Pacific Command and SPACECOM, "connecting sensors and shooters in a geographic operational theater outside the U.S. for the first time," according to an Air Force announcement.
The seven major ABMS "Product Categories" include: Digital Architecture, Engineering and Concepts; Sensor Integration; All-Domain Data; All-Domain Secure Processing; All-Domain Connectivity; All-Domain Applications; and Effects Integration.
"Agile operations require agile technology. Agile technology requires agile acquisition. Agile acquisition requires agile contracting," Air Force Chief Architect Preston Dunlap said in the press release. "It's common sense."
The Air Force currently has budgeted ABMS at $3.3 billion US over the next five years.