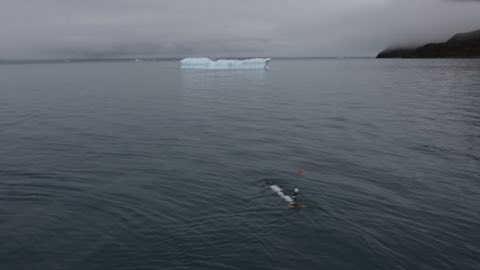 U.S. Navy officials at the Naval Research Laboratory recently announced plans to award a contract to L3Harris Technologies Ocean Server to improve and upgrade two Iver3 autonomous underwater vehicles (UUVs). The value of the upcoming contract has not been disclosed.  L3Harris had provided the Iver4-900 UUV to the U.S. Navy and the Defense Innovation Unit (DIU) earlier this year under the Navy's Next Generation Small-Class Maritime Expeditionary Mine Countermeasures Unmanned Undersea Vehicle (MEMUUV) program.
Iver3 is a commercially developed family of low-cost UUVs for coastal applications including sensor development, general survey work, sub-surface security, research, and environmental monitoring. They are small enough for one person to carry and feature simple point-and-click mission planning.
"The Iver4 is the culmination of many years of UUV development, customer feedback and application knowledge for military applications," said Daryl Slocum, Vice President and General Manager, Unmanned Maritime Systems, L3Harris. "This platform has been custom-built to address the needs of the ExMCM and EOD communities. With its flexible payload, transportable package, extended endurance and high-performance accuracy, the Iver4 is leading the next generation of small class UUVs."
Improvements to the Iver3 UUV will include:
high-resolution side-scan sonar, acoustic communications, camera, post processing, and shipping case;
underwater navigation with position accuracy of 0.3 percent;
sound velocity of at least 6 millimeters per second for sound speeds within 1400 and 1600 meters per second;
a 500-meter Explorer Pro magnetometer with an 5-meter tow cable;
an operator console with a 512-gigabyte solid drive, 8-gigabytes of RAM memory, and integrated GPS; and,
forward-looking sonar with a range of 200 meters.