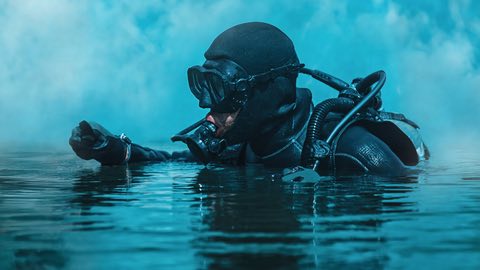 Navy SEALs are testing a new dry combat submersible (DCS) that allows them to be fully enclosed inside a mini-submarine while in transit from a submarine to shore, thus reducing their exposure to cold water and fatigue.
If successful, the DCS – made by Lockheed Martin – would work alongside the current SEAL Delivery Vehicle – a semi-enclosed submersible in which the SEALs ride, exposed to the water while breathing from the vehicle's compressed air supply or using their own SCUBA gear. Navy Cmdr. Keith Oswald, in charge of undersea systems for SOCOM ATL, said SEALs will still use the wet delivery vehicles, too, but the new vehicles will provide, "additional flexibility and options. You can do a lot more with it, it's one more tool in their toolkits."
The new DCS is able to hold up to eight SEALs and their gear, in addition to a pilot and navigator. It includes features such as terrain-following and avoidance sonar capability and can perform missions of up to 24 hours, with a range of about 70 miles (~112 km). The extended range is due to the use of the General Atomics Electromagnetic Systems (GA-EMS)-made Lithium-ion Fault Tolerant battery system (LiFT).
"With demonstrated performance through sea trials and the confidence of USSCOM, our LiFT battery system is becoming a go-to technology when performance is essential for mission assurance," stated Scott Forney, president of GA-EMS. "The acceptance of the first DCS with LiFT technology represents a solid leap toward meeting the demand for battery systems that offer greater reliability, capability and safety to support critical undersea operations. We are proud to be the provider of this energy source and look forward to seeing DCS vehicles with LiFT battery systems onboard achieve USSOCOM acceptance."