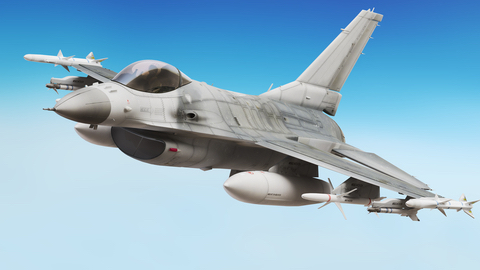 Israeli defense contractor Elbit recently announced that its American subsidiary, Elbit Systems of America, has received a firm-fixed-price contract with a ceiling of approximately $471 million over a 10-year period to equip F-16 aircraft of the U.S. Air National Guard and Air Force Reserve Command with pylon-based infrared missile warning systems.  The initial order is valued at approximately $17 million, and the work will be performed in Fort Worth, Texas.
The pylon-based infrared missile warning systems are infrared warning sensors on specialized underwing pylons that are also capable of accomodating decoy flare and chaff dispensers and electronic warfare jammers.
Elbit's Passive Airborne Warning System (PAWS) product line and other similar passive infrared missile warning systems can also detect air-to-air missile launches and can also spot air- or ground-launched non-heat-seeking missiles. Combined with chaff or an electronic warfare system, the Pylon Integrated Dispensing System Universal (PIDSU) pylons are expected to provide valuable added layers of defense for Air Force Reserve and Air National Guard F-16s.
The Air Force and Elbit did not identify the specific warning system to be installed, but Elbit does offer a number of different suites as part of the PAWS line. Elbit states that PAWS-2 can specifically work with an unspecified pylon mount from Danish defense contractor, Terma. Earlier this year, Terma received a contract from the Air Force to supply examples of its PIDSU for use on Air Force Reserve and Air National Guard F-16s. PIDSU serves as a shell into which a range of missile warning systems may be installed.