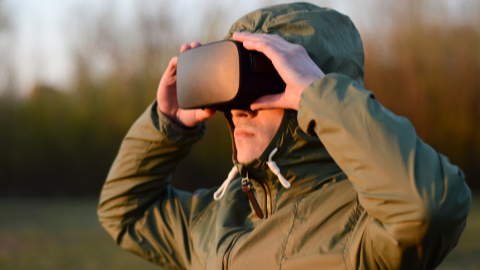 Researchers from the University of California Irvine (UCI) School of Medicine, in partnership with Chenega Healthcare Services, LLC and MedCognition, have been awarded $1.2 million from the Medical Technology Enterprise Consortium to study the potential psychological impact of augmented reality (AR) medical simulation training.
The two-year study – Assessment of the Psychological and Physiological Effects of Augmented Reality (APPEAR) – will be led by Drs. Shannon Toohey, Warren Wiechmann, and Megan Osborn from the UCI Department of Emergency Medicine and Sarah Pressman, PhD, a professor of psychological science from the UCI School of Social Ecology. Their aim is to identify psychological and physiological effects of AR prototypes currently under development or currently used for medical simulation training.
One specific aim is to establish how "pre-existing psychological traits or past stress experiences" might impact the simulation experience for trainees in the military.
"We will be using a MedCognition PerSim augmented reality medical simulation trainer to teach medical students about death and dying," Shannon Toohey, medical doctor, of UCI's Department of Emergency Medicine, said. "We will evaluate the psychological and physiological effects of the augmented reality training on the students by measuring salivary cortisol levels, electrodermal activity and evaluating their affective state."
"Assessing the physiological and psychological effects of AR prototypes for military medical simulations is imperative to the technological development and refinement needed to deliver effective solutions to the combat soldiers," Sarah Pressman, PhD and UCI professor of psychological science, said. "The outcomes of this work will be used to ensure that."
The Medical Technology Enterprise Consortium (MTEC) is a biomedical technology consortium collaborating under an Other Transaction Agreement (OTA) with the U.S. Army Medical Research and Development Command (USAMRDC).