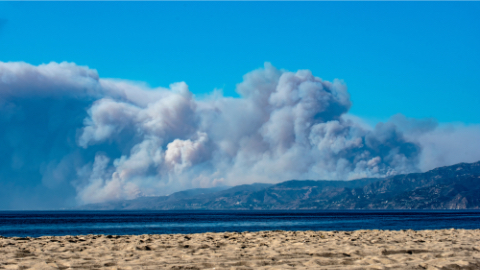 Researchers at the University of Central Florida have received a $500,000 grant from the Federal Emergency Management Agency (FEMA) to develop a portable detection system that could help firefighters and others accurately detect blazes and dangerous chemicals remotely. Current sensors are bulkier, expensive, and not as sensitive as the ones that will be developed as part of this project.
Kausik Mukhopadhyay, a senior researcher at UCF's Department of Materials Science and Engineering, will lead the study, with the sensor being designed by imec – a Belgian-based, research & development and innovation hub.
The sensor will use terahertz waves that detect chemicals consistent with a smoldering fire, which has the potential to give firefighters greater lead time to detect developing blazes. Terahertz is a range on the electromagnetic spectrum located between microwaves and infrared radiation.
"There is an urgent need for cost-effective, portable detection systems that can quickly and quantitatively analyze toxic and dangerous gases mixed with unwanted aerosols, such as smoke, soot, dust, mist, fog and fumes," Mukhopadhyay says. "Precise sensing and selective detection of hazardous, toxic, or flammable gas in the smoke is important to avoid the secondary disaster in the fire accidents for the victims and firefighters. Equally important is to precisely image hidden fires underneath the smoke, so we can douse such fires, saving lives and resources, and stop its propagation as fast as possible."
Mukhopadhyay expects the future module will be easy to carry or maneuver by retrofitting it to robotic arms or to aerial, sea or land vehicles to detect smoldering or hidden fires, toxic gases and organics.