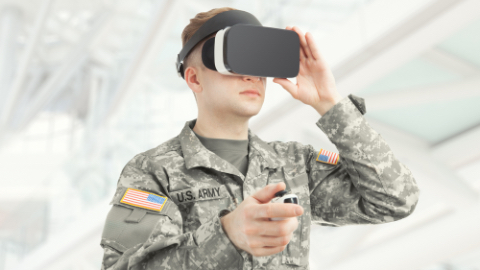 Raytheon recently released a new, immersive military training product – The Synthetic Training Environment Soldier Virtual Trainer, or STE SVT – which uses virtual reality to train squads of soldiers in multiple scenarios. The platform enables squads to train using real and virtual weapons. The virtual simulator is designed to train dismounted infantry, delivering realism and accessibility while reducing the cost and logistical challenge of high-consequence training missions. The system replaces the current room-sized simulators with portable laptop-powered AR/VR headsets that easily can be transported to soldiers for use.
"Raytheon tech helps specialists around the world prepare for the world's most important missions," said Bob Williams, vice president of Global Training Solutions at Raytheon Intelligence, Information and Services. "We are blending our understanding of training with emerging technologies – augmented reality, virtual reality, artificial intelligence, cybersecurity and big data – to connect and secure military training like never before."
The U.S. Army's Synthetic Training Environment has the goal of creating a common synthetic environment for soldiers to train together from anywhere in the world. It will combine an array of technologies – such as gaming, cloud computing, artificial intelligence, and virtual and augmented reality to converge live, virtual, and constructive training. The STE is expected to be fully operational and available by the year 2023.
STE's One World Terrain software – a virtual representation of the planet's surface – can also be used to train artificial intelligence programs.
"The Next-Generation Combat Vehicle is using our One World Terrain product to train their algorithms for their autonomous vehicle in our synthetic environment before they ever do it live," Maj. Gen. Maria Gervais, STE cross-functional team director, Army Futures Command, said. Officials from the program office know where they're going to test the vehicle, so they can test it test it virtually before doing so on real-world terrain."
.