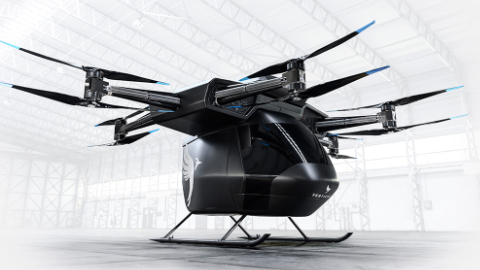 Vertical Aerospace has successfully tested an electric vertical take-off and landing (eVTOL) air taxi prototype. 'The Seraph' is capable of carrying loads of up to 250kg – the equivalent of a pilot and two passengers – and can reach speeds of up to 80km per hour.  The maiden flight follows upon the successful flight of their first full-scale prototype performed in May of 2018 – the UK's first eVTOL aircraft to be granted flight permission by the Civil Aviation Authority (CAA).
"One year ago, we flew a full-scale electric VTOL aircraft, the UK's first," said Stephen Fitzpatrick, founder and chief executive officer of Vertical Aerospace. "Air travel is one of the worst contributors to climate change and among the slowest sectors to de-carbonize. "Our mission at Vertical Aerospace is to make personal, on demand and carbon free flight a reality."
Vertical Aerospace recently announced the acquisition of MGI, an F1 engineering consultancy. The team from MGI will apply the latest technologies and agile processes from F1 to the development of eVTOL aircraft. By combining aerospace engineering skills with new technologies from Formula 1 it is expected that Vertical Aerospace will be able to bring a certified aircraft to market more quickly.
 "We have long believed that the technologies and approaches from Formula 1 could be applied to a range of engineering challenges. Vertical Aerospace's vision provides a fantastic outlet for our experience and a unique opportunity to shape the future of flight," said Mike Gascoyne, chief technology officer of Vertical Advanced Engineering. "Joining the Vertical team will allow us to work on cutting edge engineering programs while continuing to provide world-class consultancy services to the wider engineering community."