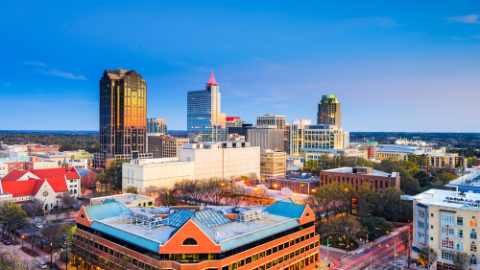 The National Science Foundation (NSF) recently announced a third wireless research platform to be located in North Carolina's Research Triangle. The $24 million grant over five years – Aerial Experimentation and Research Platform for Advanced Wireless (AERPAW) – will focus on researching wireless communications for unmanned aerial systems (UAS), with the goal of integrating the systems into national airspace.
The NSF Platforms for Advanced Wireless Research (PAWR) initiative – along with an industry consortium – has pledged to invest $100 million over the next seven years to build specialized wireless networks for U.S. researchers to test new ways of increasing wireless speed and capacity – with two other sites currently located in New York City and Salt Lake City. The platforms are designed to accelerate the development and commercialization of promising technologies, ensuring continued U.S. leadership in wireless communications, while also preparing the next-generation workforce for new job opportunities.
"The platform will enable significant research into the wireless communications capabilities necessary for autonomous drone and mobility systems," says Erwin Gianchandani, NSF acting assistant director for computer and information science and engineering. "By enabling experiments that consider three-dimensional, highly mobile and diverse scenarios, AERPAW will be critically important for enhancing wireless networking capabilities in our communities, and for furthering the development of innovative new applications that will improve civic services and citizen safety."
Ismail Guvenc, Associate Professor of Electrical and Computer Engineering at North Carolina State University (NC State), is the primary investigator (PI) on the project. NC State will work closely with the Wireless Research Center and researchers at Mississippi State University, Renaissance Computing Institute (RENCI) at the University of North Carolina at Chapel Hill, Purdue University, and the University of South Carolina, as well as local partners including the Town of Cary, City of Raleigh, and North Carolina Department of Transportation.