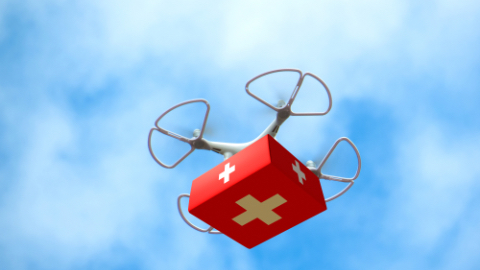 Oklahoma State University's Unmanned System Research Institute has partnered with MaxQ to demonstrate the use of drone technology to deliver medical supplies. The project combines OSU's drone expertise with MaxQ's proprietary insulated medical containers to improve delivery times for blood, medicine, and other crucial supplies.
"The whole point of this is to really deliver (blood and/or medicine) in a really fast, autonomous fashion," said Jamey Jacob, professor of mechanical and aerospace engineering and director of the USRI drone program at OSU.
Rotary and fixed-wing drones are being used that can carry specialized containers developed by MaxQ to first responders and medics within minutes. The drones can be operated by a pilot using a remote control or can be programmed where to go. The rotary drones carrying MaxQ containers can fly for about 45 minutes and have a radius of 5 to 6 miles (~8-9 km), depending on weather conditions. The fixed-wing drones can fly about 90 minutes with a range of about 60 miles (~96 km).
"Typically, when you deploy blood in an emergency situation, if (first responders) have access to blood right then and there, they can start treating patients instead of waiting until they are at the hospital. It is extremely effective," said MaxQ CEO Saravan Kumar.
Jacob stated that one aim of the project would be to launch a "swarm" of drones that could deliver a relatively large amount of supplies following a disaster and for use by the military.
"This stuff is a great technology for delivery of military supplies to the front lines. It could be used for needed treatment when you have a firefight," Jacob said.
OSU has received approval from the FAA to conduct limited beyond-visual-line-of-sight tests with multiple drones. Future tests and demonstrations are planned at OSU's Unmanned Aircraft Flight Station.
"It's a fantastic partnership," Kumar said of working with OSU. "I think this is just the beginning of our partnership, and we look forward to continuing to work with USRI to develop this platform and make it possible to save lives."