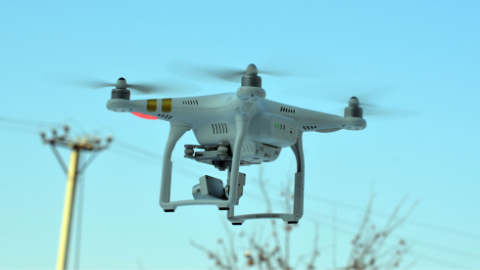 Xcel Energy has become the first utility in the U.S. to receive permission from the Federal Aviation Administration (FAA) to conduct beyond visual line of sight (BVLOS) drone flights, flights for regular transmission line inspection without visual observers or a chase-aircraft. Xcel plans to use BVLOS in eight states – Colorado, Michigan, Minnesota, New Mexico, North Dakota, South Dakota, Texas, and Wisconsin.
Traditionally, transmission line inspections are conducted by linemen who scale towers to examine equipment, which can be dangerous. The primary alternative – helicopter-based inspection – typically costs about $600 for each mile of aerial inspection and can be equally dangerous. To solve these problems, Xcel worked with The Harris Corporation to identify a BVLOS solution.
"Using drones beyond the visual line of sight is a major advancement for Xcel Energy," said David Eves, executive vice president and group president-utilities, Xcel Energy. "This innovative technology is revolutionizing our work by improving the safety, efficiency and cost-effectiveness of maintaining and protecting the grid for our company and our customers."
Xcel's use of drones is part of the North Dakota Department of Transportation (NDDOT) Drone Integration Pilot Program, which was started in May 2018. The three-year program enables agencies to work on policy that can safely advance UAS operations, including beyond visual line of sight, flights over people, and night operations.
"With this Pilot Program, we also will be able to create new avenues to enhance safety on our roadways and help first responders keep our citizens safe during emergencies," Tom Sorel, the NDDOT director stated. "It will allow us to explore new uses for unmanned aircraft, such as monitoring critical infrastructure and working with law enforcement and emergency services to speed up response times during events such as flooding, blizzards and finding missing persons."