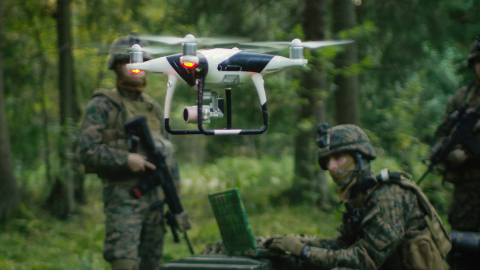 The US Air Force (USAF) has awarded a contract to Ascent Vision Technologies (AVT) to supply a full suite of anti-unmanned aircraft system (UAS) vehicles. Ascent Vision Technologies X-MADIS Expeditionary Mobile Air Defense Integrated System defends against unmanned aerial system (UAS) threats to critical local, state and federal infrastructure and event security missions demands a multi-sensor, integrated mobile platform for rapid and responsive employment. The technology has the ability to detect, locate, track, identify, and defeat small unmanned aerial systems (sUAS).
X-MADIS features an all-threat tactical air surveillance radar, gyro-stabilized optical sensor, and command and control interface and electronic warfare system. The contract has a potential of more than $23M and deliveries are expected to start later this year.
AVT President and Chief Commercial Officer Lee Dingman said, "We are honored that the USAF selected X-MADIS to combat the increasing threat of nefarious UAS activity against our military. The safety, security and survive-ability of our airmen is paramount in the current UAS threat environment."
In the past two years, world-wide incidents of negative drone-related activity has increased greatly from combatants using commercial off-the-shelf drones on the battlefield, to the intentional disruption of civilian airports. During the last 24 months, AVT has been awarded over $60 million in product and service-related contracts in support of multiple anti-drone initiatives for the US and allied militaries. The firm's L-MADIS anti-drone system is in use by the US Marine Corps. The system was developed in a joint effort with the USMC Ground Based Air Defense team, and other partner suppliers.
AVT CEO Tim Sheehy said, "With the growing threat of weaponized sUAS employed on the modern battlefield, the need for effective and reliable counter UAS technology is crucial. We are proud to have our technology ready to protect our Airmen from insidious sUAS attacks."